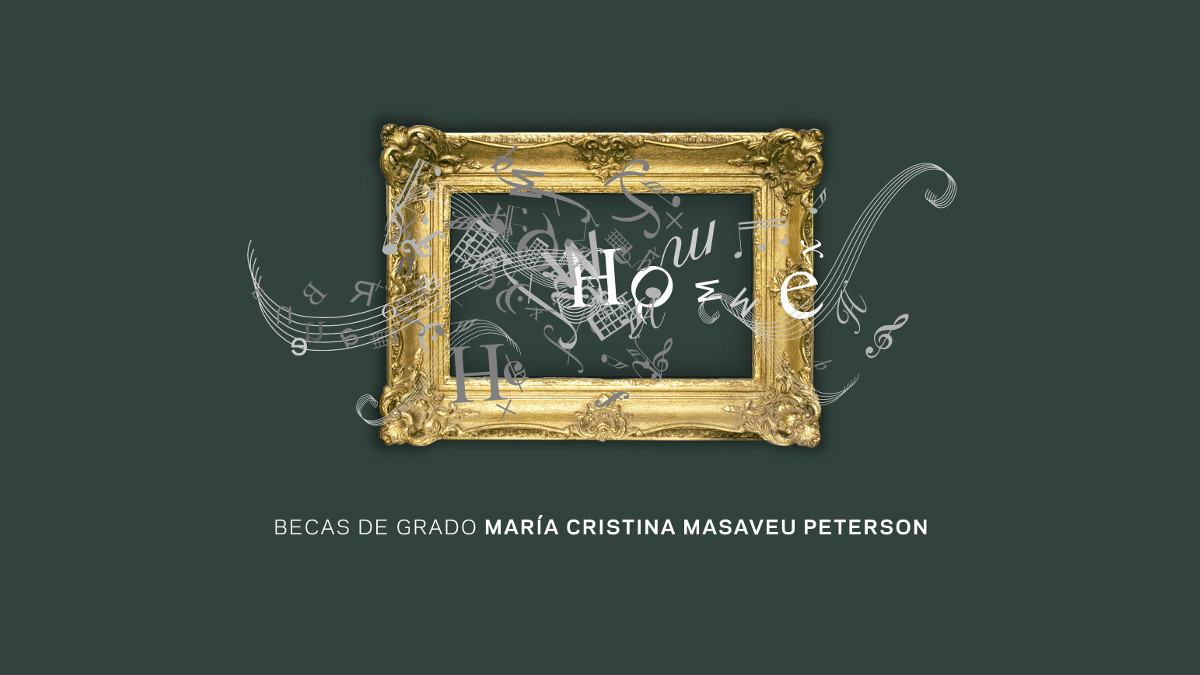 SCHOLARSHIP FOR ACADEMIC EXCELLENCE MARÍA CRISTINA MASAVEU PETERSON
III CONVOCATORIA · curso 2020-2021
"The María Cristina Masaveu Peterson Foundation promotes the integral human and professional training of youths"
Recognising academic excellence seeks to encourage students' dedication and efforts to achieve excellence in learning and in their professional and human training and formation. With this goal in mind, as part of its 2020–2021 Training Programme, the Foundation presented a new call for applications scholarships for official university degrees, advanced engineering and architecture degrees, diplomas, Master's degrees and technical engineering and architecture degrees, which this year are being presented as the María Cristina Masaveu Peterson University Degree Scholarships, 1st Call for Applications. The scholarship is envisioned to have continuity and seeks to support the academic careers of Asturian youths who show high academic performance and wish to pursue higher education.
Esta nueva convocatoria tiene por objeto fijar las bases para la concesión por la Fundación María Cristina Masaveu Peterson, de ayudas para estudios oficiales universitarios de grado, primer ciclo y segundo ciclo, Licenciado, Ingeniero, Arquitecto, Diplomado, Maestro, Ingeniero Técnico y Arquitecto Técnico, del curso académico 2020-2021. Quedan excluidos estudios de máster, postgrado y doctorado.
Es una beca concursal. El cumplimiento de los requisitos que se recogen en estas Bases de la Convocatoria, permite acceder al proceso de evaluación para la concesión de un número limitado de becas entre todos los candidatos presentados. Pero en ningún caso garantiza la concesión automática de beca. La evaluación de solicitudes, está avalada por un comité académico de evaluación convocado por la Fundación, ex profeso y a la medida de cada convocatoria, de acuerdo al perfil académico de los solicitantes. La evaluación se realiza por campos científicos y de acuerdo a los criterios de excelencia establecidos.
Esta Beca es un reconocimiento a la excelencia académica para potenciar el talento e incentivar la dedicación y empeño de los estudiantes en alcanzar la excelencia en el aprendizaje y en la formación profesional y humana, ampliando de manera personalizada, las oportunidades formativas y académicas de cada estudiante.
La beca está concebida con el objetivo de proporcionar ayuda económica para cubrir los gastos derivados de los ESTUDIOS UNIVERSITARIOS, y a criterio de la Fundación puede comprender además, actividades de dimensión EXTRA ACADÉMICA, como la formación musical, artística, en idiomas, inscripción a programas de extensión universitaria, asistencia a cursos en el extranjero, congresos, conferencias, etc…, que completen su formación y contribuyan a la excelencia en la formación integral, profesional y humana, del becado. Estas ayudas son para estudios presenciales, a tiempo completo y dedicación plena.
El plazo para la presentación de solicitudes: del 1 al 31 de octubre de 2020 (ambas fechas incluidas).
Se encuentra a disposición de los candidatos, el documento PREGUNTAS FRECUENTES, con la selección de las dudas más habituales planteadas por los candidatos en anteriores convocatorias.
Desde el 1 de septiembre y hasta la finalización del plazo establecido para la presentación de solicitudes, 31 de octubre, el Área de Formación y Becas, atenderá todas las posibles dudas, aclaraciones y consultas, que los candidatos deseen remitir por correo electrónico a la dirección becas@fmcmp.com
BECAS MARÍA CRISTINA MASAVEU PETERSON

Desde su constitución en 2008, y a lo largo de sus doce convocatorias ya resueltas, el Programa de Becas María Cristina Masaveu Peterson, ha concedido 330 Becas.
---
CURSO           SOLICITUDES           BECAS CONCEDIDAS   
2008/09                        60                            10
2009/10                        44                            18
2010/11                        58                            21
2011/12                        37                            20
2012/13                      124                            17
2013/14                        84                            32
2014/15                        56                            25
2015/16                        73                            34
2016/17                      100                            44
2017/18                        76                            37
2018/19                        89                            36
2019/20                        71                            36
---