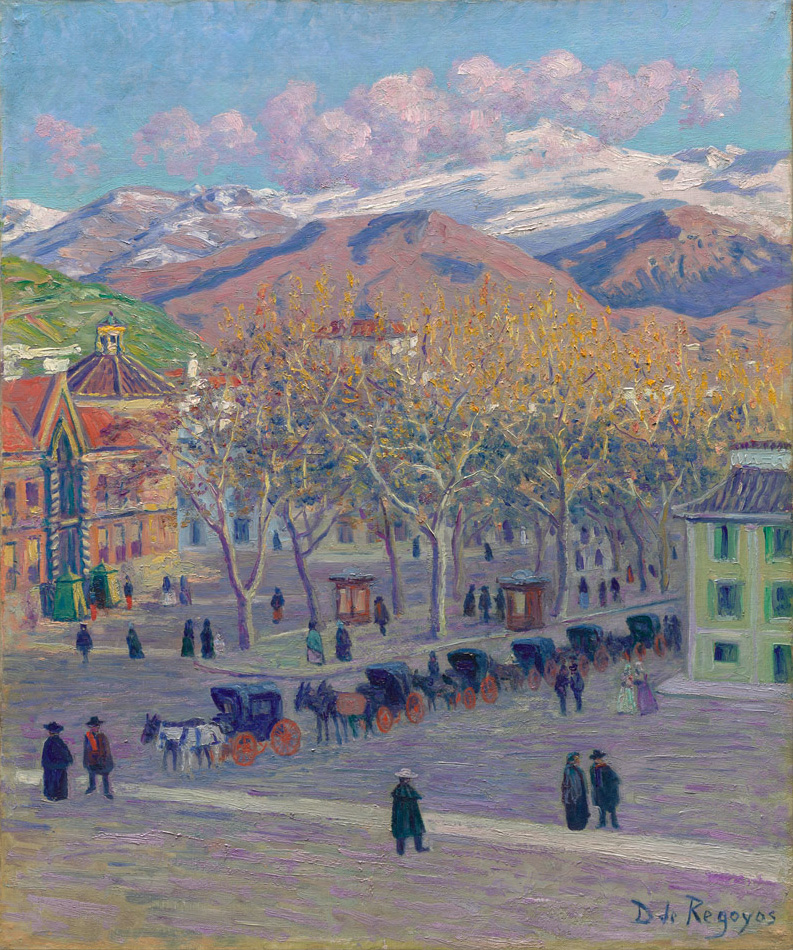 Communication with the purpose of culturally promoting artists included in the Fundación María Cristina Masaveu Peterson Collection, works protected by intellectual property rights. Their total or partial reproduction or processing by any means, or their transmission or cession in any form is forbidden without the authorisation of the holder of the rights to the works
Une place à Grenade (Plaza granadina)
TECHNICAL DATA
Author: Darío de Regoyos y Valdés (Ribadesella, Asturias, 1857 – Barcelona, 1913)
Title: Une place à Grenade (Plaza granadina)
Year: 1905
Technique: oil on canvas
Size: 61 x 50 cm
Darío de Regoyos visited Granada four times. On his third trip in February 1905, he painted several views of the city. In this one he depicted Plaza de Bibataubín, located in the city centre. On the left he painted the Baroque palace, originally Arab, which lent the square its name, which means Gateway of the Brickmakers. The artist exaggerated the angle of the pediment on top, almost turning it into a gable, and for the sake of simplicity he did not depict the Baroque mouldings over the bays However, he did paint the Solomonic columns which frame the façade, along with the military security posts in front of them, given that the building was being used as barracks at that time.
The painter managed to capture the coldness of a Granada winter, with the trees stripped bare of leaves and the figures enshrouded in capes and hats. The square seems to be split by the queue of buggies which, along with the double row of trees, both of them on the diagonal, infuse the composition with a great deal of dynamism. The entire scene is enlivened by the bright midday sun, which leaves bluish shadows and rosy reflections on the snow in the mountains and tinges the clouds as well. The long, narrow violet and purple brushstrokes of the pavement reveal the Impressionist practice of painting shaded surfaces colourfully.
This work was acquired by the Fundación María Cristina Masaveu Peterson at an auction in Ansorena on 6 November 2017 (lot 56).