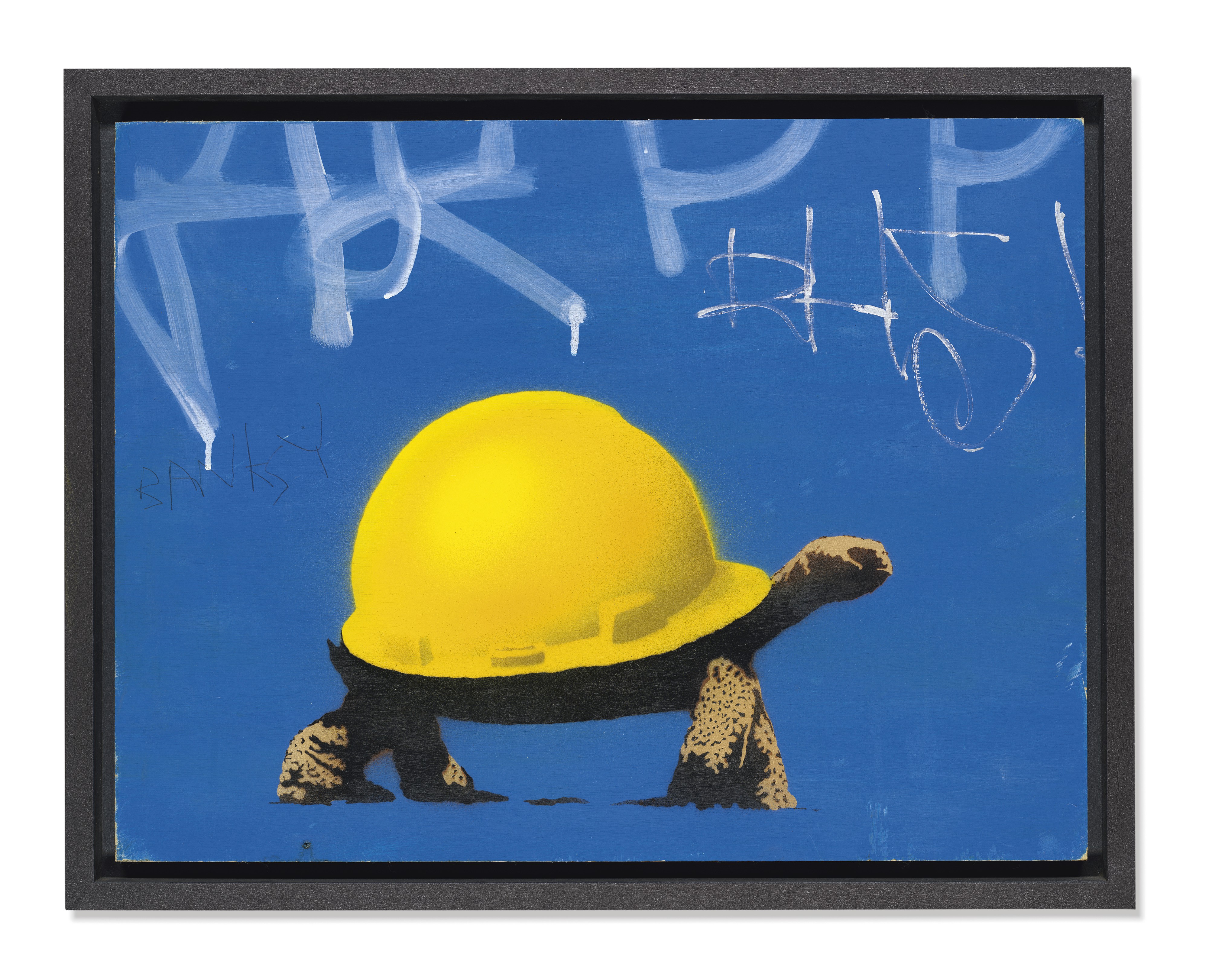 Crédito imagen: Courtesy of Pest Control office, Banksy, Tortoise Helmet, 2009.
Communication with the purpose of culturally promoting artists included in the Fundación María Cristina Masaveu Peterson Collection, works protected by intellectual property rights. Their total or partial reproduction or processing by any means, or their transmission or cession in any form is forbidden without the authorisation of the holder of the rights to the works.
TORTOISE HELMET
TECHNICAL DATA
Author: Banksy
Title: Tortoise Helmet
Year: 2009
Technique: pencil, acrylic and spray enamel on cardboard
Size: 57 x 75 cm
Edition: 1 of 5
The first time Banksy painted this motif was on the door of a house in New Orleans in August 2008, three years after hurricane Katrina (29 August 2005) had devastated the city, and shortly before a new hurricane came, Gustav, which once again besieged the city in September 2008. It was part of a set of graffiti made by the urban artist on different buildings in the city, most of which have unfortunately been lost. Perhaps the most famous ones are the girl with an umbrella and the one depicting two soldiers stealing a television.
This painting, the first in an edition of five, was made one year after that action. Just like the original design, Banksy replaced the tortoise's shell with a yellow helmet, no doubt comparing it to the emergency staff that mobilised after the hurricane. Via the animal he has chosen, which is associated with slowness, the artist is criticising the slow pace at which the government enacted emergency measures and assistance for the victims.
Tortoise Helmet was acquired by the Fundación María Cristina Masaveu Peterson at Christie's auction house in 2020.