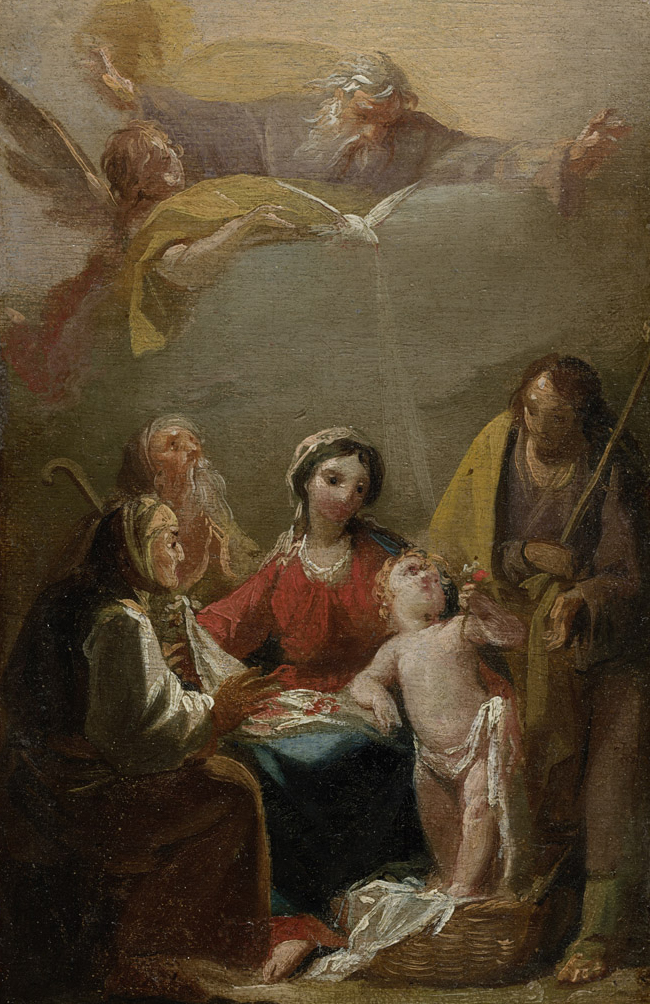 Communication with the purpose of culturally promoting artists included in the Fundación María Cristina Masaveu Peterson Collection, works protected by intellectual property rights. Their total or partial reproduction or processing by any means, or their transmission or cession in any form is forbidden without the authorisation of the holder of the rights to the works.
Sagrada Familia con Santa Ana y San Joaquín
TECHNICAL DATA
Autor: Zacarías González Velázquez (Madrid, 1763-1834)
Título: Sagrada Familia con santa Ana y san Joaquín
Año: hacia 1795
Técnica: óleo sobre lienzo
Dimensiones: 24 x 16 cm
Conocida hasta ahora únicamente a través de una antigua fotografía, esta obra es un boceto preparatorio para una composición al óleo de mayores dimensiones. De ejecución ágil y resolución jugosa, en especial en los empastes blancos, que resaltan las luces de un modo vibrante, presenta notables variaciones compositivas y diferencias de colorido con el cuadro definitivo (colección particular). Así, por ejemplo, la composición, en sus dos registros, terreno y celestial, resulta más trabada en el boceto que en el cuadro definitivo, en el que se acrecienta la distancia entre la paloma del Espíritu Santo y la cabeza de la Virgen María, se introduce un paisaje y, en la parte superior, varios ángeles niños. Otros cambios atañen a la figura de Dios Padre, que en el boceto extiende los brazos y unifica así la composición, pues casi abarca las figuras que están bajo él. En cambio, en la obra definitiva los recoge y apoya uno de ellos sobre la esfera azul del orbe. Rodeada de cuatro ángeles y con un resplandor divino entre nubes por encima que ocupa la parte más alta del cuadro, esta figura pierde protagonismo y queda más aislada del grupo de la parte inferior.
Adquirida en Abalarte el 20 de octubre de 2020 (lote 106), su posterior restauración, que ha eliminado numerosos repintes, ha devuelto a la obra su frescura y calidad original. El lienzo se ha además reenmarcado para realzar su carácter de boceto.