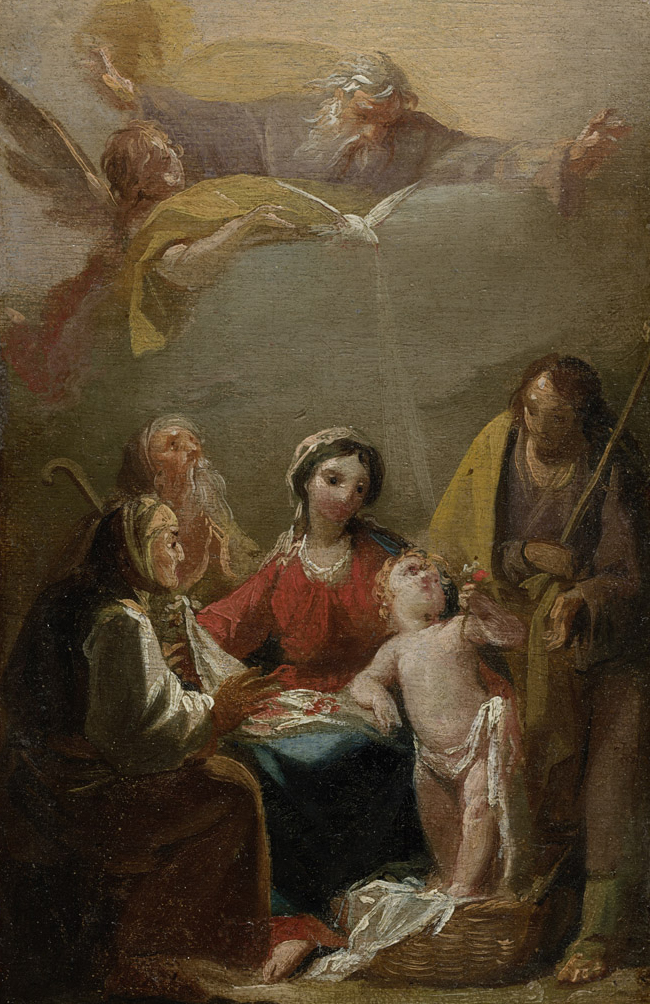 Communication with the purpose of culturally promoting artists included in the Fundación María Cristina Masaveu Peterson Collection, works protected by intellectual property rights. Their total or partial reproduction or processing by any means, or their transmission or cession in any form is forbidden without the authorisation of the holder of the rights to the works.
SAGRADA FAMILIA CON SANTA ANA Y SAN JOAQUÍN
TECHNICAL DATA
Author: Zacarías González Velázquez (Madrid, 1763-1834)
Title: Sagrada Familia con santa Ana y san Joaquín (Holy Family with St. Anne and St. Joachim)
Year: Ca. 1795
Technique: oil on canvas
Size: 24 x 16 cm
Known until now only through an old photograph, this work is a preparatory sketch for a larger oil composition. Of agile execution and juicy resolution, especially in the white fillings, which highlight the lights in a vibrant way, it presents notable compositional variations and differences in coloring with the definitive painting (private collection). Thus, for example, the composition, in its two registers, earthly and celestial, is more complex in the sketch than in the definitive painting, in which the distance between the dove of the Holy Spirit and the head of the Virgin Mary is increased, a landscape is introduced and, in the upper part, several child angels. Other changes concern the figure of God the Father, who in the sketch extends his arms and thus unifies the composition, since he almost embraces the figures below him. On the other hand, in the definitive work he gathers them and rests one of them on the blue sphere of the orb. Surrounded by four angels and with a divine radiance between clouds above that occupies the highest part of the painting, this figure loses prominence and is more isolated from the group of the lower part.
Acquired from Abalarte on October 20, 2020 (lot 106), its subsequent restoration, which has removed numerous repaints, has restored the work to its original freshness and quality. The canvas has also been reframed to enhance its sketchy character.