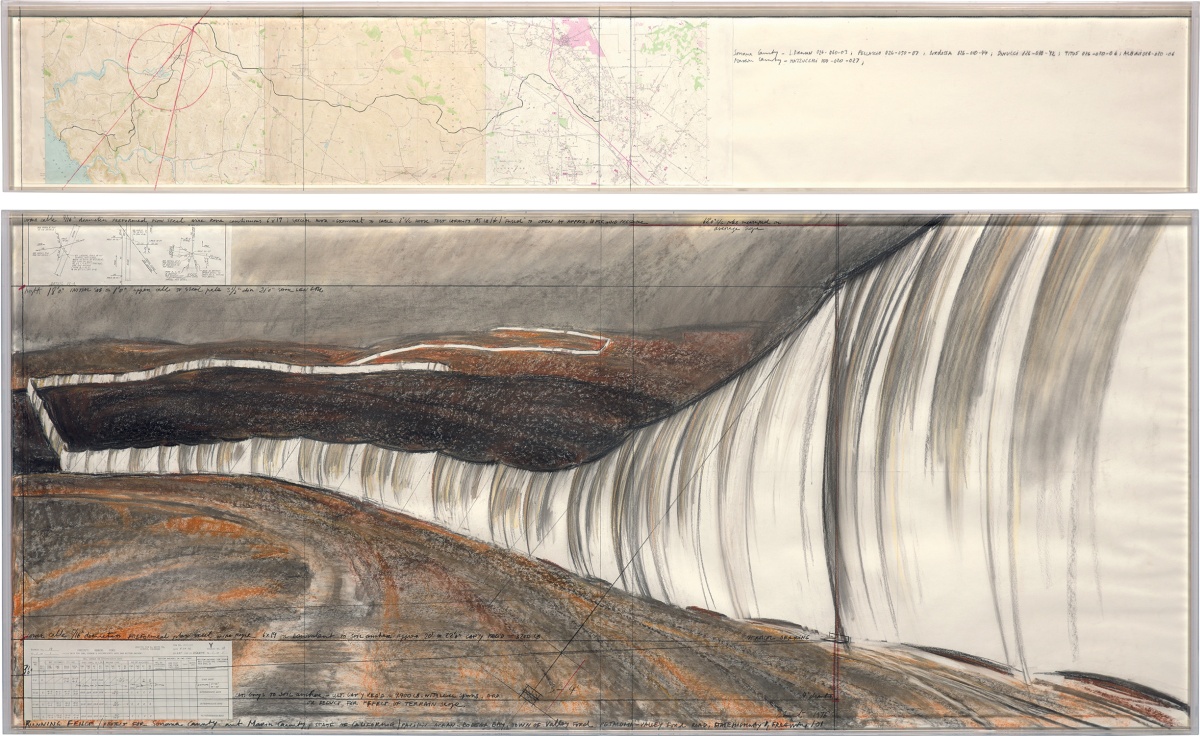 Communication with the purpose of culturally promoting artists included in the Fundación María Cristina Masaveu Peterson Collection, works protected by intellectual property rights. Their total or partial reproduction or processing by any means, or their transmission or cession in any form is forbidden without the authorisation of the holder of the rights to the works
Running Fence (Project for Sonoma County and Marin County, State of California)
TECHNICAL DATA
Author: Christo (Christo Vladimirov Javacheff, Gabrovo, Bulgaria,1935)
Title: Running Fence (Project for Sonoma County and Marin County, State of California)
Year: 1976
Technique: charcoal, pastel, crayon and paper printed on paper
Size: 108 x 241,5 cm
This work on paper is associated with the running fence project that Christo and Jeanne-Claude designed for Sonoma County and Marin County in California, one of the first works by these artists after their arrival in the United States. Envisioned since 1972 and installed on 10 September 1976, it was one of the most lyrical and spectacular projects by the two creators, who signed it jointly under the name of Christo until 1994. The intervention only stood for two weeks but has become famous through the elements comprising it and the extensive documentation created by the artists, much of which is currently held by the Smithsonian American Art Museum.
Running Fence consisted in the installation of a white nylon fence, cables and steel posts 39.4 kilometres long and 5.5 metres tall which crossed the properties of 59 landowners in these two counties located north of San Francisco. To Christo and Jeanne-Claude, this ephemeral fence alluded to human freedom and the restrictions which are placed on it.
The piece in the FMCMP collection, made of two charcoal, pastel, crayon and paper collage printed on paper and framed in two plexiglass boxes, was acquired by the Fundación María Cristina Masaveu Peterson in the auction at Phillips in New York on 15 May 2019 (lot 210).