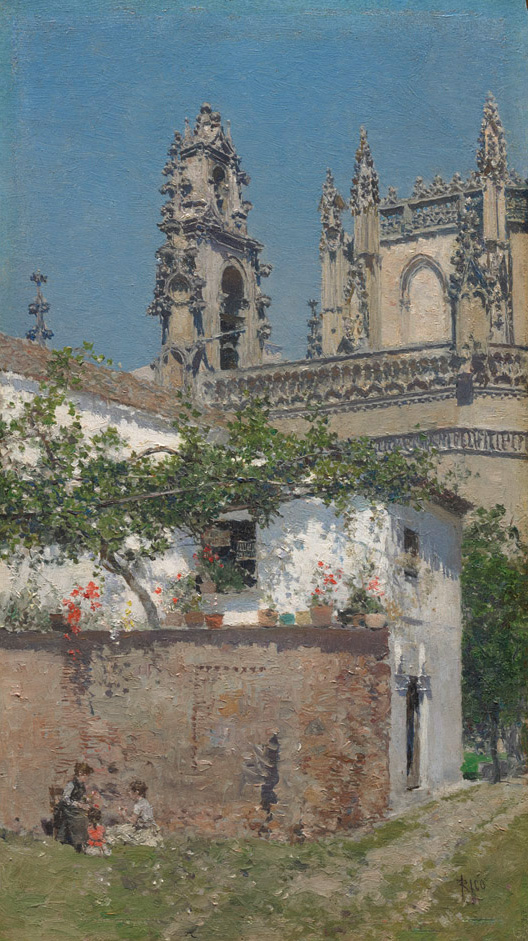 Comunicación con fines de promoción cultural de artistas incluidos en la Colección Fundación María Cristina Masaveu Peterson protegidas por derechos de propiedad intelectual. Prohibida su reproducción, total o parcial, ni tratamiento por cualquier medio ni transmisión o cesión de cualquier forma, sin autorización del titular de los derechos sobre las obras.
Granada
TECHNICAL DATA
Author: Martín Rico y Ortega (Madrid, 1833 – Venecia, 1908)
Títle: Granada
Year: 1871
Technique: oil on wooden panel
Size: 31 x 17 cm
Martín Rico lived in Granada along with his friends Mariano Fortuny and Ricardo de Madrazo for much of 1871. His painting was transformed there, becoming more luminous, with brighter colours applied with short, precise brushstrokes. In this work, just as in others he painted at that time and afterward, the artist created a composite landscape in which he merged fragments from different places and transformed them, while he also invented others. The most prominent feature is an echo of the exterior of the Royal Chapel, whose crest among the pinnacles dominates the composition and stands out against an extraordinarily bright sky, common in spring or summer, along with a Baroque bell tower added by the artist. In the foreground, a whitewashed house contrasts with the monumental architecture. Its garden, with a tree behind a wall with plant pots resting atop it, reflects Rico's taste for showing cultivated architecture alongside its more popular version. By doing so, he created a subtle gradation from the humblest elements, like the wall in the foreground, to the noblest, such as the carved filigree-like stone in the background. The presence of small human figures, quite common in this stage in the artist's oeuvre, expresses his interest in painting inhabited scenes, which differ from the coldness of solely monumental views.
This panel was acquired on 2 December 2016 at the Neal Auction Company, New Orleans (Louisiana, United States, lot 293).