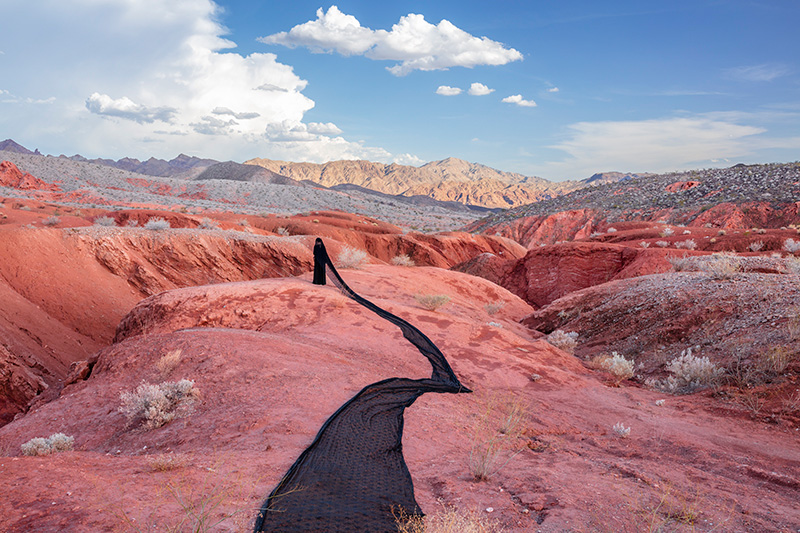 Communication with the purpose of culturally promoting artists included in the Fundación María Cristina Masaveu Peterson Collection, works protected by intellectual property rights. Their total or partial reproduction or processing by any means, or their transmission or cession in any form is forbidden without the authorisation of the holder of the rights to the works
Peregrina VI
TECHNICAL DATA
Author: Soledad Córdoba (Avilés, 1977)
Title: Peregrina VI
Year: 2019
Technique: pigmented inks in Hahnemühle Rag Pearl paper on dibond
Size: 100 x 150 cm
Edition: 1/5
This work belongs to the series entitled Trilogy of the Soul: Transcendence, which she made in 2019 with the support of the 2017 Leonardo Grant for Researchers and Cultural Creators from the BBVA Foundation. It was displayed in public for the first time at the Cárcel Centro de Creación in Segovia.
As is common in this Asturian artist's oeuvre, the image starts with a performative experience and features the body of a woman, specifically Córdoba's. In this case, the figure merges with the desert in an encounter with the sublime, a Romantic aesthetic notion which is the key to embarking on an inner journey towards the different states of the soul. In this work, the artist defines this exploration, initiated in previous projects like Devastation (2015–2016) and Resistance (2017), as a mystical path, an inner coming-of-age journey, which is perfectly visible in Pilgrim VI through the movement of the figure and the black veil (one of the common symbols in her works), which reveals the path taken.
This photograph was acquired in February 2019 at the Galería Gema Llamazares stand at the 2019 JUSTMAD fair.