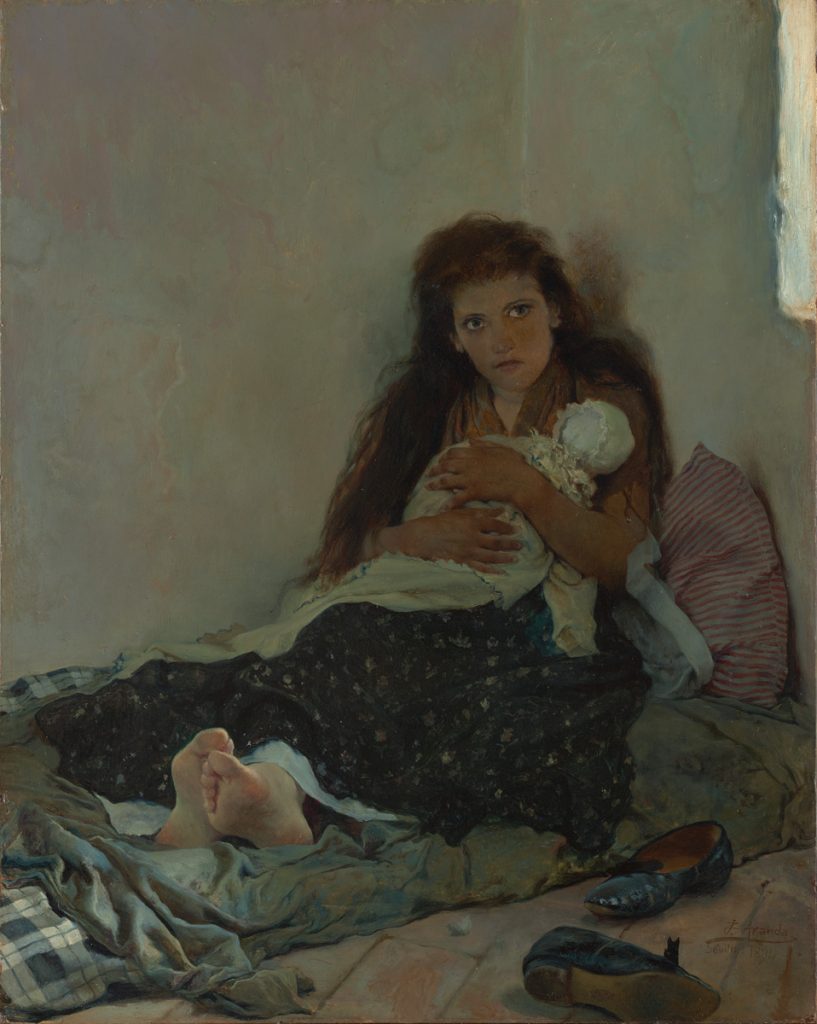 Communication with the purpose of culturally promoting artists included in the Fundación María Cristina Masaveu Peterson Collection, works protected by intellectual property rights. Their total or partial reproduction or processing by any means, or their transmission or cession in any form is forbidden without the authorisation of the holder of the rights to the works
¡Loca!
TECHNICAL DATA
Author: José Jiménez Aranda (Sevilla, 1837 – 1903)
Title: ¡Loca!  (Madwoman!)
Year: 1894
Technique: oil on panel
Size: 46,5 x 37 cm
This work is one of José Jiménez Aranda's most original contributions to social painting. In it, the young woman's mental disturbance is revealed by her disorientated stare, her wide-open eyes, her semi-parted lips, her dishevelled hair, her bare feet next to her shoes, her messy clothing and the way she is grasping a doll to her chest.
Painted on a wooden panel made in France (from the Parisian company Paul Denis Successeurs) with white primer, this is one of this artist's best quality works. Its painstaking draughtsmanship, the study of the light that tinges the walls blue and pink, the balanced colours and the delicacy of its execution made it highly prized.
¡Loca ! was acquired by the Fundación María Cristina Masaveu Peterson at an auction in Ansorena on 1 June 2016 (lot 520).