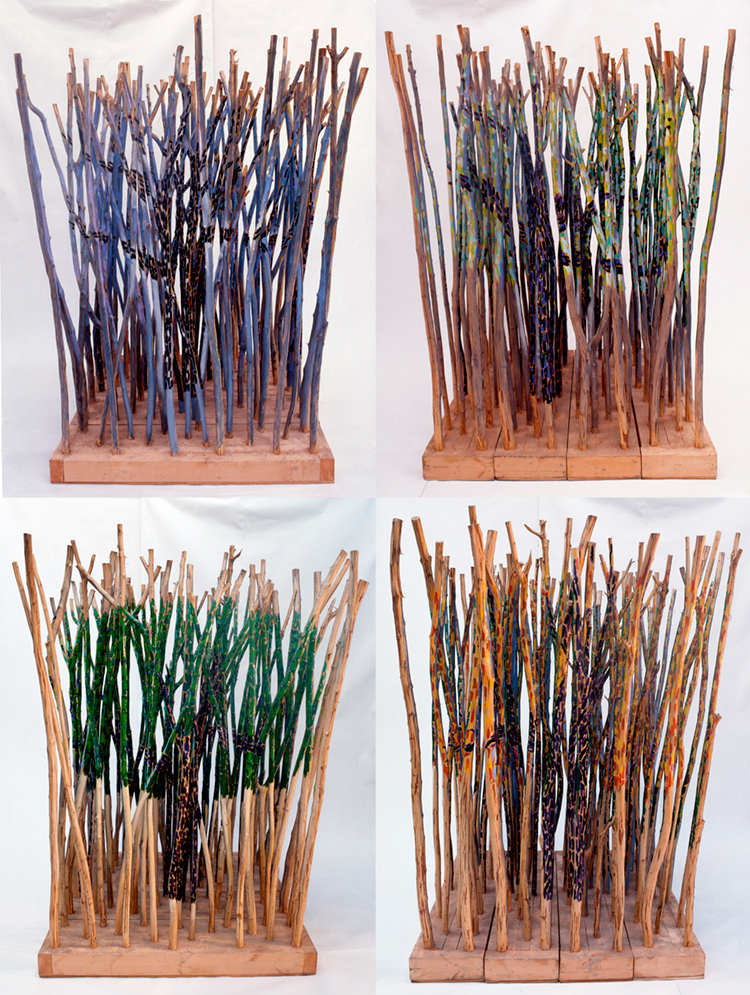 Communication with the purpose of culturally promoting artists included in the Fundación María Cristina Masaveu Peterson Collection, works protected by intellectual property rights. Their total or partial reproduction or processing by any means, or their transmission or cession in any form is forbidden without the authorisation of the holder of the rights to the works.
The Four Seasons
TECHNICAL DATA
Author: Agustín Ibarrola  (Basauri, Vizcaya, 1930)
Título: The Four Seasons
Year: 1995
Tecnique: oil on hazelnut and wood sticks
Size: 230 x 160 x 160 cm (each)
The four pieces comprising The Four Seasons are closely tied to the artist's other interventions in nature, more specifically in trees, such as in Oma Forest (Kortebuzi, Vizcaya, 1982–1987), the Dry Elm Forest in Salamanca (1995–1996) and the O Rexo forest in Allariz (Orense, 1997–1999). The idea of intervening on trees occurred to Ibarrola during a walk in nature with his wife, Mari Luz. In this case, just as in the aforementioned works, he forges a dialogue between art and nature and transforms hazelnut sticks (yet without stripping them of their identity). The touches of colour, which vary according to each season and contrast with the roughness of the wood. By combining different elements to assemble the different groups, Ibarrola also highlights the idea of community and a global vision. He explores concepts like the oppositions between concave/convex and full/empty while assembling the elements in an apparently organic, casual order.
This work was acquired by the Fundación María Cristina Masaveu Peterson in January 2020.