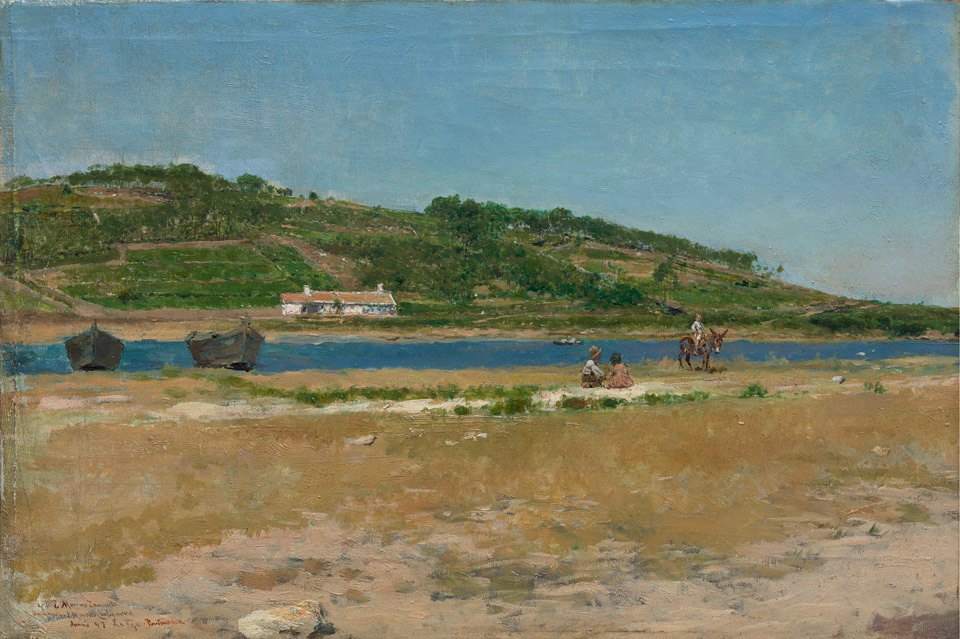 Communication with the purpose of culturally promoting artists included in the Fundación María Cristina Masaveu Peterson Collection, works protected by intellectual property rights. Their total or partial reproduction or processing by any means, or their transmission or cession in any form is forbidden without the authorisation of the holder of the rights to the works
La Toja
TECHNICAL DATA
Author: José Moreno Carbonero (Málaga, 1858 – Madrid, 1942)
Title: La Toja
Year: 1897
Technique: oil on canvas
Size: 31 x 41,5 cm
In June 1897, José Moreno Carbonero spent two weeks at La Toja spa. During his stay on this island in Pontevedra, he painted this work, which he dedicated and most likely gave to Dr Eduardo Moreno Zancudo (1853–1908), who specialised in the digestive tract and hydrology and thermal waters and may have been treating the painter for a gastric disorder.
The artist chose as his motif the tongue of sea between El Grove and La Toja island, which were not yet joined by the bridge that was built in the early 1920s. His choice of an empty space in the foreground; his decision to concentrate the main part of the landscape into a narrow strip in the middle ground with figures, boats and the sea; and his taste for adding children and animals to his views of nature stem from the conceptions of Mariano Fortuny and Martín Rico, who influenced the artist. Barely sketching the broad stretch of land closest to the spectator in order to guide their eyes to the middle ground was also a common device among these painters. Even though the execution is loose, the artist precisely defined the elements in the landscape. The variety of greens in the vegetation in the foreground, the meadows in the middle ground and the pine trees in the background, as well as the introduction of mauve and white brushstrokes on the tongue of sea, reveal his subtle observation of reality.
This work was acquired at the Galería Jorge Juan in Madrid in 2018.