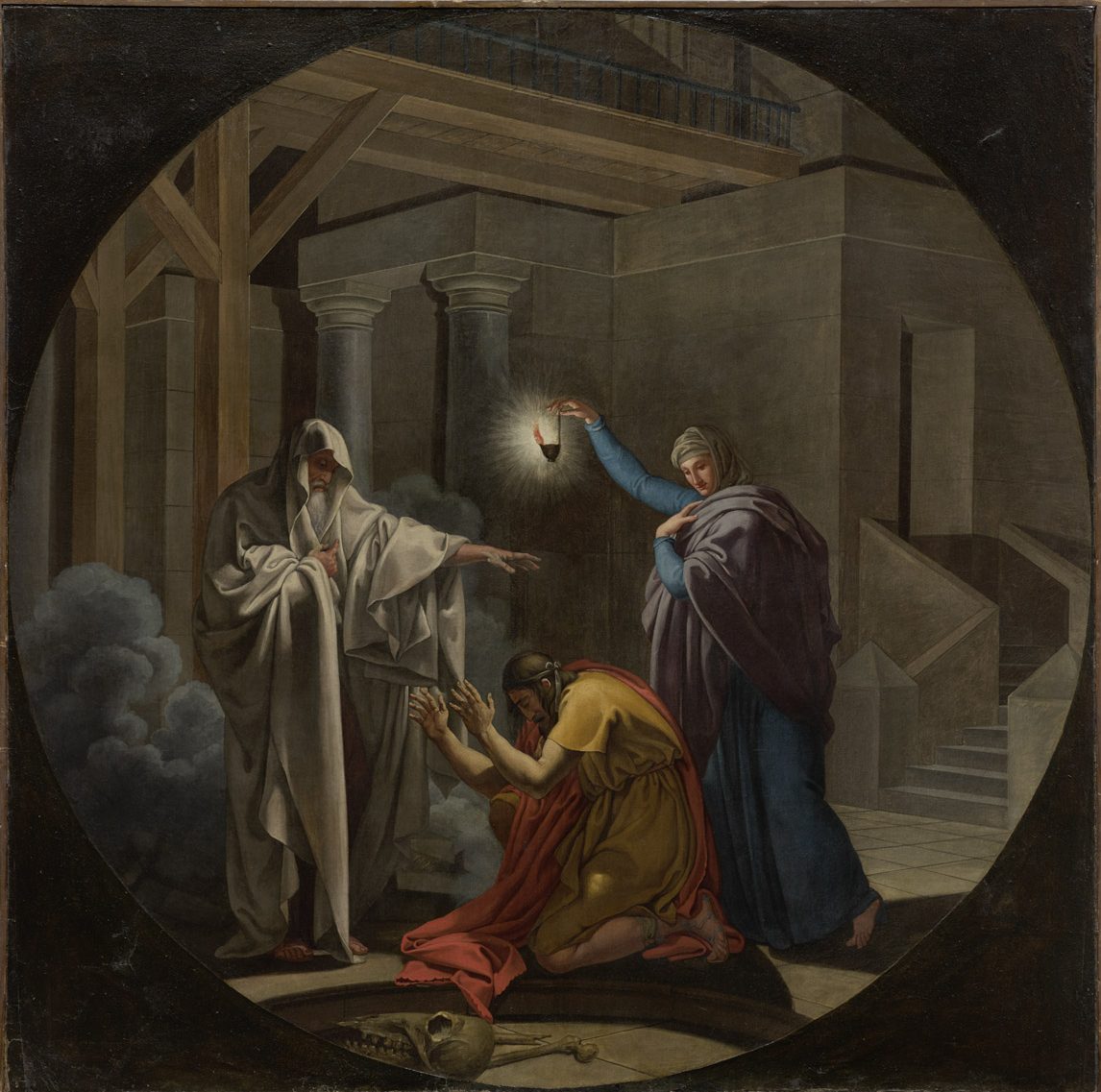 Communication with the purpose of culturally promoting artists included in the Fundación María Cristina Masaveu Peterson Collection, works protected by intellectual property rights. Their total or partial reproduction or processing by any means, or their transmission or cession in any form is forbidden without the authorisation of the holder of the rights to the works.
LA SOMBRA DE SAMUEL APARECIÉNDOSE A SAÚL
TECHNICAL DATA
Author: Juan Antonio Ribera (Madrid, 1779-1860)
Title: The shadow of Samuel appearing to Saul
Year: circa 1812-19
Tecnique: tempera on canvas
Size: 146,5 x 146,5 cm
This painting, unaccounted for until its acquisition on October 29, 2020 at Subastas Alcalá (lot 728), was part of a set of nine tempera works with scenes from the Old Testament that Juan Antonio Ribera painted in Rome.
With a very precise drawing, stylized figures and a scenographic interior, characteristic features of the author, it represents the episode of the pythoness of Endor, to whom King Saul went to evoke the spirit of the prophet Samuel before his battle against the Philistines. The spirit of the prophet, who appears, as the biblical passage describes, wrapped in a cloak, predicts his coming defeat and death. The cloud of smoke that envelops him refers to his supernatural appearance. Saul's desperation is evident in his outstretched hands and in his posture, fallen to the ground in the presence of the fortune-teller, who illuminates the scene with a lamp in the axis of a very balanced composition. The coloring is also very sober and only the red of the king's robe stands out. The presence of the skull and some animal bones alludes to the condition of the occupant of the house.
From the collection of the Infante Sebastián Gabriel de Borbón, it has been restored and reframed by the Foundation. This intervention has recovered the intensity of the original chromatic values, of great purity, previously completely distorted by the brownish veil, and has brought to light a very careful and academic drawing, thus enhancing the classicism of the work. It has also contributed to the better appreciation of the balance of the composition of the scene and the clarity of the spatial distribution of the characters in the theatrical setting designed by Ribera, which the frame, of carved and gilded wood and neoclassical taste, allows to enhance very opportunely.