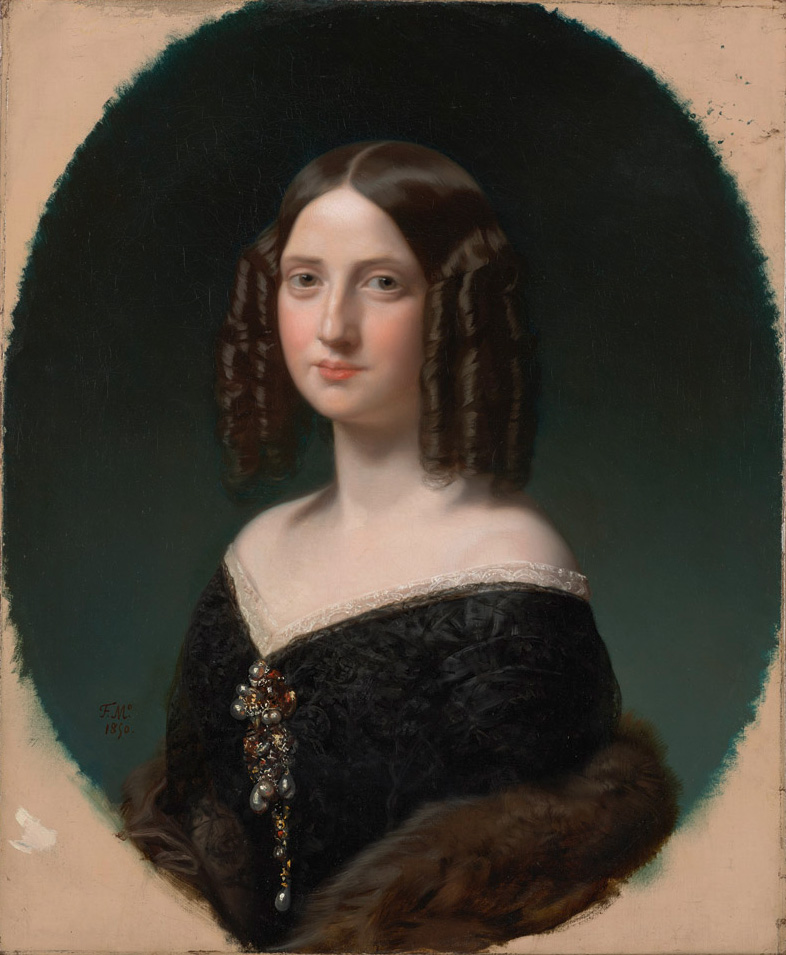 Communication with the purpose of culturally promoting artists included in the Fundación María Cristina Masaveu Peterson Collection, works protected by intellectual property rights. Their total or partial reproduction or processing by any means, or their transmission or cession in any form is forbidden without the authorisation of the holder of the rights to the works
Inés Pérez de Seoane
TECHNICAL DATA
Author:  Federico de Madrazo y Kuntz (Rome, 1815 – Madrid, 1894)
Title: Inés Pérez de Seoane
Year: 1850
Technique: oil on canvas
Size: 66 x 54 cm
Dating from the peak in the artist's career, in which the influence of Jean-Auguste-Dominique Ingres can be seen, this portrait depicts Inés Pérez de Seoane y Marín (c. 1832–1850), the daughter of the first counts of Velle.
Painted as an extended bust encompassing almost half her body, this work embodies all the characteristics that made Federico de Madrazo the favourite painter of Madrid's elites. They include elegance, which is clear in her contained expression, which seems to hint at a kind of mystery; her grace, suggested via the perfect ovals of her head, eyes and shoulders and further enhanced by the oval shape of the painting; the delicacy of the shaping of her face, framed by ringlets which cast shadows that slightly darken her shoulders, along with the soft sfumato on her eyelids; the fine colouring, which adds the warm colours of the fur stole around her to the dark tones of the dress, and the many colours of the rich pendant of pearls and precious stones in the fashion of the day, using one of the artist's most frequent devices; and ultimately the subtlety of the tactile qualities, accentuated by the reflections of light captured with confident, loose brushstrokes.
The work was auctioned on 11 April 2018 at Fernando Durán (lot 619), where it was purchased by the Foundation.