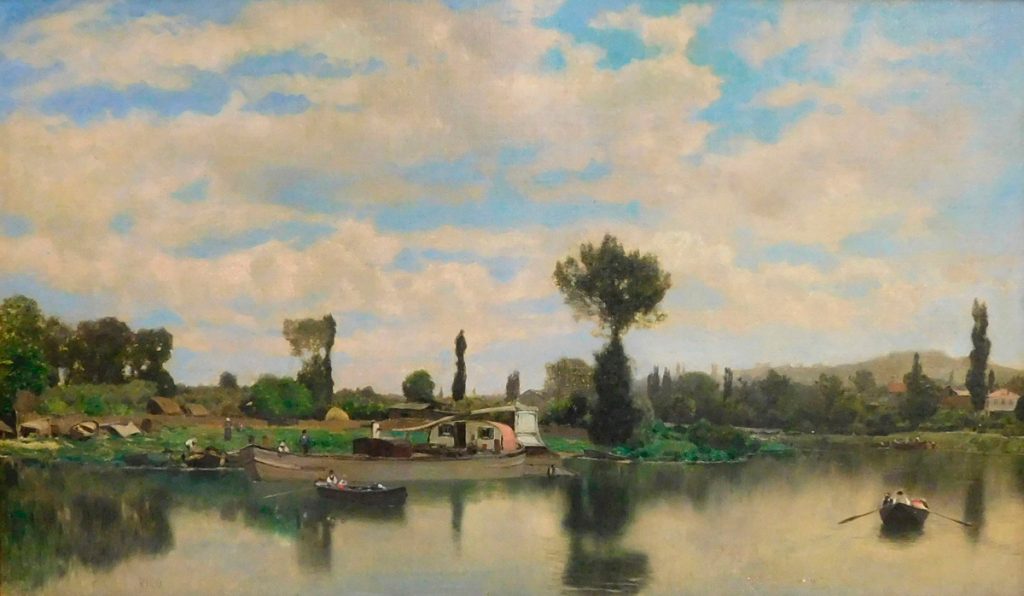 Comunicación con fines de promoción cultural de artistas incluidos en la Colección Fundación María Cristina Masaveu Peterson protegidas por derechos de propiedad intelectual. Prohibida su reproducción, total o parcial, ni tratamiento por cualquier medio ni transmisión o cesión de cualquier forma, sin autorización del titular de los derechos sobre las obras.
Gabarra en carga
TECHNICAL DATA
Author: Martín Rico y Ortega (Madrid, 1833 – Venecia, 1908)
Title: Gabarra en carga (Loaded Barge)
Year: 1869
Technique: oil on canvas
Size: 38,5 x 64,5 cm
During the spring and summer of 1869, Rico moved to the small French town of Poissy, on the banks of the Seine, in the department of Yvelines, where he poured himself into painting river landscapes whose colours reveal greater luminosity.
Laid out at a slightly oblique angle, the composition focuses on a barge surrounded by smaller boats on the river. The artist made several sketches of these boats used in river traffic, which also appear in other paintings from that year in Poissy and the following year in Bougival. He painted the reflections of the trees with complete precision, conferring a harmonious stability on the composition. However, his attractive rendering of the air, which is quite clear in the dynamism of the clouds and the swaying of the tree canopies, is related to a naturalistic orientation.
This work was acquired at an auction at Winter Associates, Plainville (Connecticut, United States) on 12 September 2016 (lot 180).