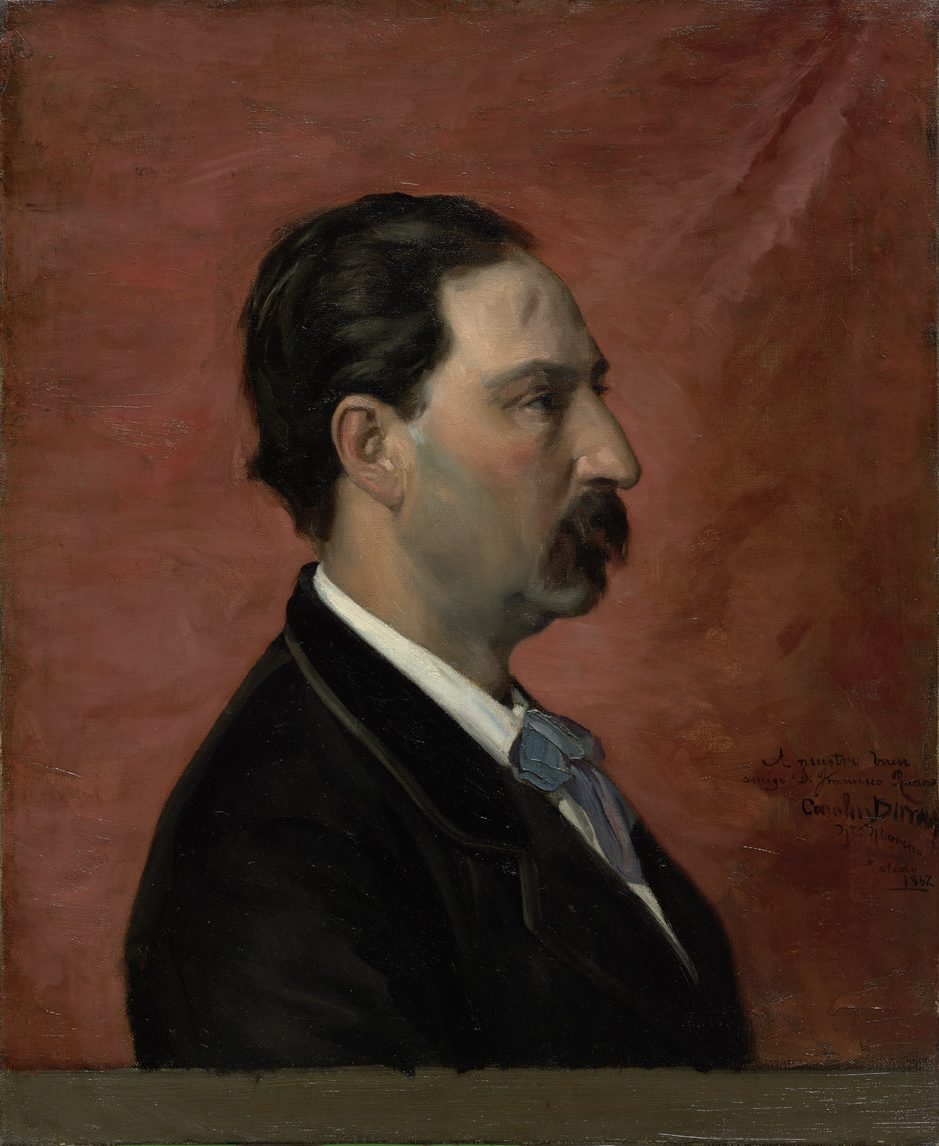 Comunicación con fines de promoción cultural de artistas incluidos en la Colección Fundación María Cristina Masaveu Peterson protegidas por derechos de propiedad intelectual. Prohibida su reproducción, total o parcial, ni tratamiento por cualquier medio ni transmisión o cesión de cualquier forma, sin autorización del titular de los derechos sobre las obras.
FRANCISCO RUANO
TECHNICAL DATA
Autor:Carolus-Duran ([Charles-Émile-Auguste Durand] Lille, Francia, 1837 – París, 1917) y Matías Moreno González (Fuente el Saz, Madrid, 1840 – Toledo, 1906)
Título: Francisco Ruano
Año: 1867
Técnica: oil on canvas
Dimensiones: 63,5 x 52 cm
Unpublished until now, this work is a rare and curious example of a portrait made in collaboration between two artist friends: the French Carolus-Duran and the Spanish Matías Moreno. In 1867 both lived in Toledo, where the sitter held positions of municipal responsibility. Highlighted against a background of reddish tones, the model appears bust-length and in strict profile, as was usual in the effigies that Carolus-Duran, a great portraitist, made of his friends, including that of another Spaniard, the painter Francisco Bushell, which is in this same collection of the María Cristina Masaveu Peterson Foundation.
.
The effigy stands out against a background of reddish tones. This background, very characteristic of Carolus-Duran, is somewhat reminiscent of the portrait he painted of Matías Moreno in 1866. In Ruano's portrait, the use of a broad brushstroke in the background, with lighter tones around the head and the fluid and elegant resolution of the tie's bow, seem typical of Carolus-Duran, and perhaps other details of the face are due to Moreno.
The work was auctioned in the Durán room in April 2021 with lot number 56 and the authorship "Spanish School s. xix". After its entry into the collection, it has been restored, correcting the numerous deformations it suffered and cleaning it to recover the chromatic values and clarify the legibility of the signature and dedication included on the right side of the canvas.