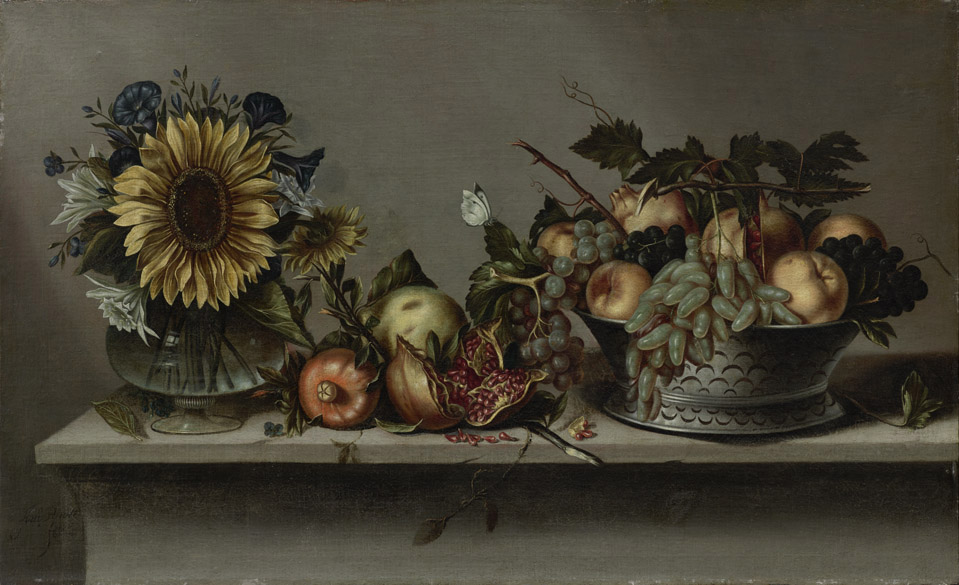 Communication with the purpose of culturally promoting artists included in the Fundación María Cristina Masaveu Peterson Collection, works protected by intellectual property rights. Their total or partial reproduction or processing by any means, or their transmission or cession in any form is forbidden without the authorisation of the holder of the rights to the works
Flowers in a vase and fruit in a bowl on a ledge
TECHNICAL DATA
Author: Antonio Ponce (Valladolid 1608 – after 1662?)
Title: Flowers in a vase and fruit in a bowl on a ledge
Year: circa 1640-1650
Technique: oil on canvas
Size:  62, 2 x 100,7 cm
© Christie's Images Limited, 2016
Signed "Anto Ponce / fe", this work dates from approximately the 1640s or 1650s, when Ponce was using lighter and more luminous backgrounds with less compositional rigour, often featuring fruit baskets.
A series of elements is arranged on a smooth stone ledge, whose left corner is showing. On the left, a round glass vase is filled with blossoms, including sunflowers and narcissus. On the right is a large white porcelain bowl decorated with blue semicircles, which seem to echo the structure of the wicker basket, filled with peaches, pomegranates and grapes, some of them called "cow teat" grapes. Between the two is a quince and two pomegranates, one of them split open, showing its loose jewels as they fall onto the ledge.
Traces of Van der Hamen can still be seen in both its painstaking drawing and its composition, laid out horizontally with trompe-l'oeil effects—such as the twig lying on the ledge, moving out towards the spectator. However, the lighting is characteristic of Ponce's mature style: with a bright, luminous background and a single source of intense light from the side which illuminates the objects from the upper left corner.
This work, which used to belong to the Várez Fisa collection, was acquired by the Fundación María Cristina Masaveu Peterson in the "From Ancient to Modern. A distinguished private collection" auction at Christie's in London on 7 December 2016.