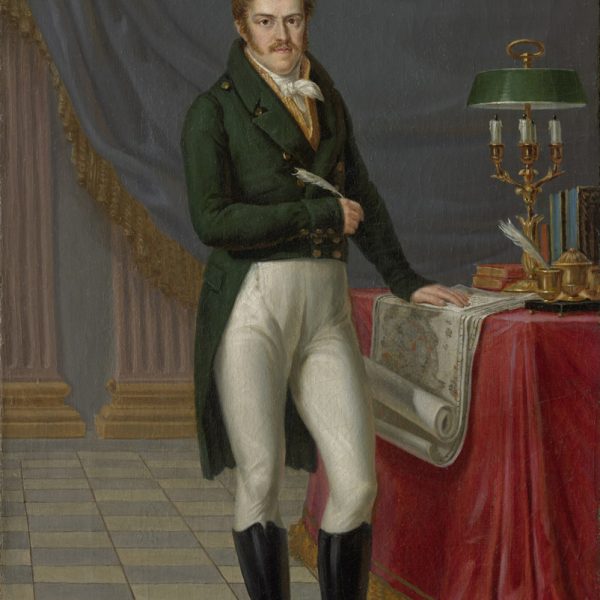 Communication with the purpose of culturally promoting artists included in the Fundación María Cristina Masaveu Peterson Collection, works protected by intellectual property rights. Their total or partial reproduction or processing by any means, or their transmission or cession in any form is forbidden without the authorisation of the holder of the rights to the works.
EL INFANTE CARLOS MARÍA ISIDRO DE BORBÓN
TECHNICAL DATA
Author: Francisco Lacoma y Fontanet (Barcelona, 1778 – Passy, París, 1849)
Title: El infante Carlos Maria Isidro de Borbón (The Infante Carlos Maria Isidro de Borbón)
Year: Ca. 1820-23
Tecnique: oil on canvas
Size:34,5 x 24 cm
The work, acquired by the Foundation at Abalarte on October 20, 2020 (lot 161), is one of the numerous small portable portraits of full body that the artist painted. Set either indoors, as in this case, or outdoors, such works constitute his main contribution to Spanish neoclassical portraiture.
The Infante Carlos María Isidro de Borbón (1788-1855) is depicted in his early thirties, dressed in a riding suit, green frock coat with double gold buttons and shirt with white handkerchief. The artist achieved an effect of living presence of the character through the gaze, directed to the viewer and the gestures of the hands.
The portrait is part of a large group of effigies of the royal family, including that of the monarch, commissioned in 1820, ten of which were preserved in 1834, the date of the will of Ferdinand VII, in the Casita del Príncipe del Escorial, including two versions of this painting.
The work has been restored after its acquisition with the main purpose of eliminating the deformations of the canvas and settling the color, thus ensuring its better conservation. A new frame has also been acquired.