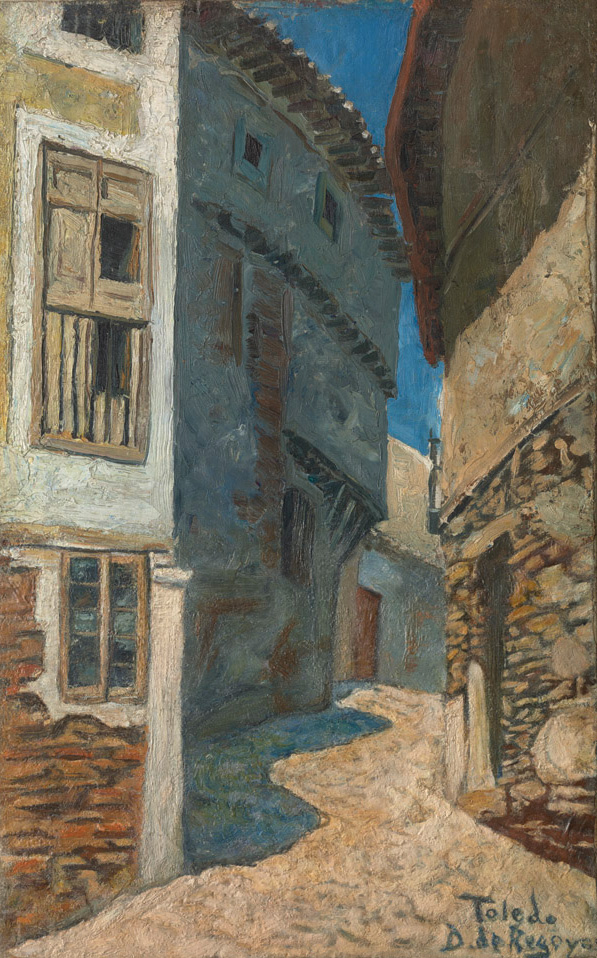 Communication with the purpose of culturally promoting artists included in the Fundación María Cristina Masaveu Peterson Collection, works protected by intellectual property rights. Their total or partial reproduction or processing by any means, or their transmission or cession in any form is forbidden without the authorisation of the holder of the rights to the works
Una calle de Toledo
TECHNICAL DATA
Author: Darío de Regoyos y Valdés (Ribadesella, Asturias, 1857 – Barcelona, 1913)
Title: Una calle de Toledo (A street in Toledo)
Year: hacia 1882
Technique: oil on canvas
Size: 48 x 30 cm
In May and October 1882, Regoyos was in Toledo, where he made four drawings related to four subsequent oil paintings. In these works, the artist did not set out to depict the most prominent monuments but instead turned his eye to the picturesque streets and corners. The resulting works often had vertical compositions, as does this one, in which the lower vantage point means that the eaves of the houses meet on the upper part.
This work was painted in light ochre tones with broad brushstrokes and generous pigment, crushed into the canvas in some areas. The colourful shadow of the house captured in the midday light is particularly interesting. All of this, along with the lack of concern with drawing in the academic sense, make this painting, like others by the artist, a totally unique contribution to the Spanish art of his day.
Una calle de Toledo (A Street in Toledo) was acquired by the Foundation at the auction held at Sotheby's, London, on 24 May 2018 (lot 13).