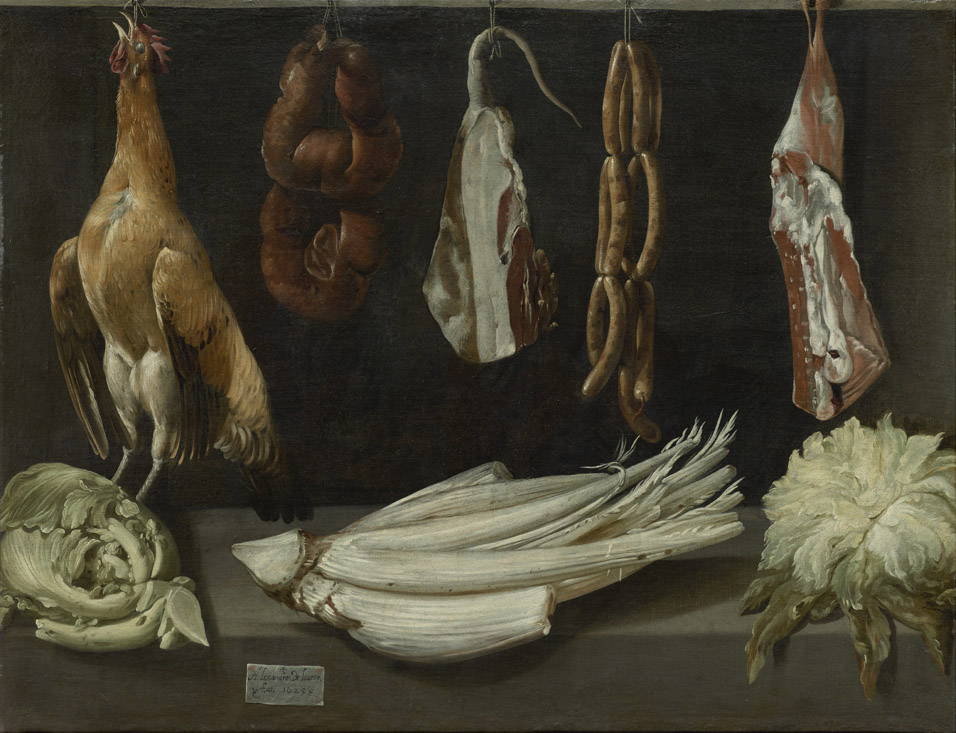 Communication with the purpose of culturally promoting artists included in the Fundación María Cristina Masaveu Peterson Collection, works protected by intellectual property rights. Their total or partial reproduction or processing by any means, or their transmission or cession in any form is forbidden without the authorisation of the holder of the rights to the works
Bodegón de cocina
TECHNICAL DATA
Author: Alejandro de Loarte ( ¿Madrid?, 1590 o 1600 – Toledo,1626)
Title: Bodegón de cocina (Kitchen still life)
Year: 1625
Technique: oil on canvas
Size: 81,7 x 107,9 cm
This still life, made in 1625 according to the inscription, at the peak of the artist's career, is modelled after Juan Sánchez Cotán's (1560–1627) Still Life with Game, Vegetables and Fruit (1602, Museo del Prado). It depicts a cardoon between two heads of green lettuce resting on a shelf, casting heavy shadows. On the upper part are a chicken, several sausages and cuts of meat suspended from metal hooks hanging from a horizontal rail—an element Sánchez Cotán never painted.
All the elements are painted with a naturalistic technique with a mix of detailed descriptions and the use of light and contrasts over a dark background. They are also laid out symmetrically, balancing the volumes and touches of colour in an arrangement that confers a kind of monumentality on the objects. The restricted colour palette, coupled with the technique of using broad brushstrokes to indicate light, shadow and texture, are all characteristics of Loarte's painting.
Coming from the Várez Fisa collection, this work was acquired by the Fundación María Cristina Masaveu Peterson at the "From Ancient to Modern. A distinguished private collection" auction at Christie's in London on 7 December 2016.