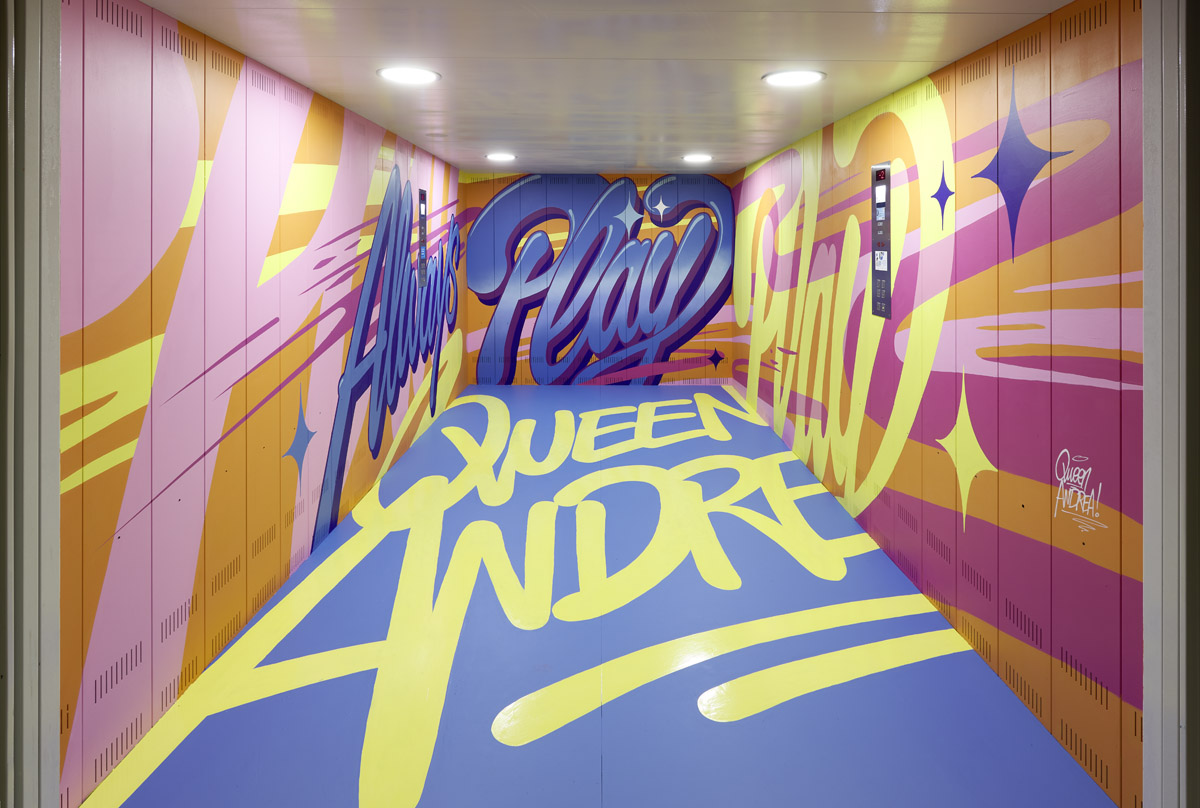 Communication with the purpose of culturally promoting artists included in the Fundación María Cristina Masaveu Peterson Collection, works protected by intellectual property rights. Their total or partial reproduction or processing by any means, or their transmission or cession in any form is forbidden without the authorisation of the holder of the rights to the works.
ALWAYS PLAY
TECHNICAL DATA
Author: Queen Andrea (New York, United States)
Title: Always Play
Year: 2020
Tecnique: spray and acrylic paint on metal
Size: 203 x 245 x 497,8 cm
This work by American graffiti artist Queen Andrea is, together with Sinstelación by Juan Díaz-Faes, one of the two projects carried out under the patronage of the Fundación María Cristina Masaveu Peterson in 2021. Both are specific projects linked to the street art space of its Madrid headquarters.
Developed on the building's freight elevators (interior and doors), Queen Andrea was inspired for this design by a small painting, Play, acquired by the María Cristina Masaveu Peterson Foundation in 2020. From it, and attracted by the fact that this elevator is used by the children and adolescents who participate in the center's educational activities, she deploys, with her characteristic style of juicy typography and vibrant colors, the slogan "Always Play", an encouraging message that invites to action and to enjoy the playful sense of art and life.
This is the first time that the artist and designer works on a forklift, which has presented her with the challenge of not only painting on a new support, but also of having to compose each wall and the floor in an interrelated way, thus conceiving a painting in a certain three-dimensional sense that envelops the viewer and fills him or her with positivity.