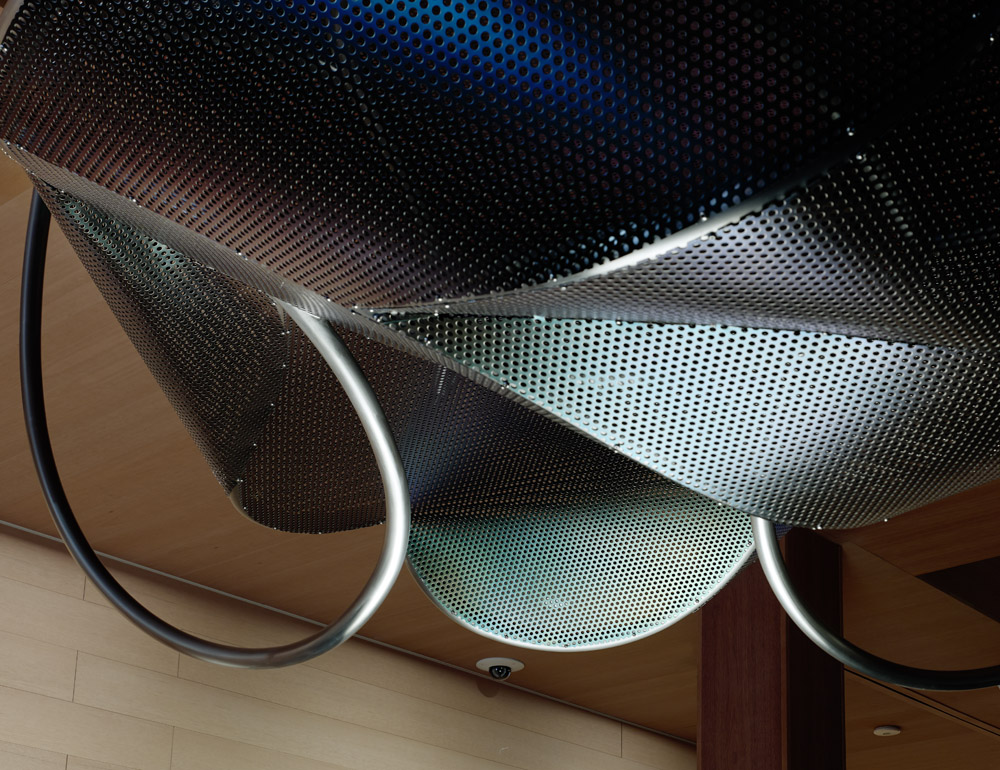 Communication with the purpose of culturally promoting artists included in the Fundación María Cristina Masaveu Peterson Collection, works protected by intellectual property rights. Their total or partial reproduction or processing by any means, or their transmission or cession in any form is forbidden without the authorisation of the holder of the rights to the works
Altiva
TECHNICAL DATA
Author: Blanca Muñoz (Madrid, 1963)
Title: Altiva (Haughty)
Year: 2019
Technique: stainless steel
Size: 180 x 280 x 300 cm
Category: Patronage project of the Fundación María Cristina Masaveu Peterson
Haughty is a work created for the FMCMP headquarters in Madrid. It is the first time that Blanca Muñoz has made a hanging piece, a decision that was conditioned by the place where it was to be installed, the Foundation's entry lobby.
Blanca Muñoz is one of the most important sculptors in Spain who primarily works in stainless steel.
Haughty is a piece made of perforated steel sheeting which appears suspended, defying gravity. Its fluid, organic shapes make it seem extraordinarily light despite the material it is made from. The faint hues covering the work create an iridescent look which changes colour depending on the light it reflects, and therefore it varies depending on the viewer's vantage point.