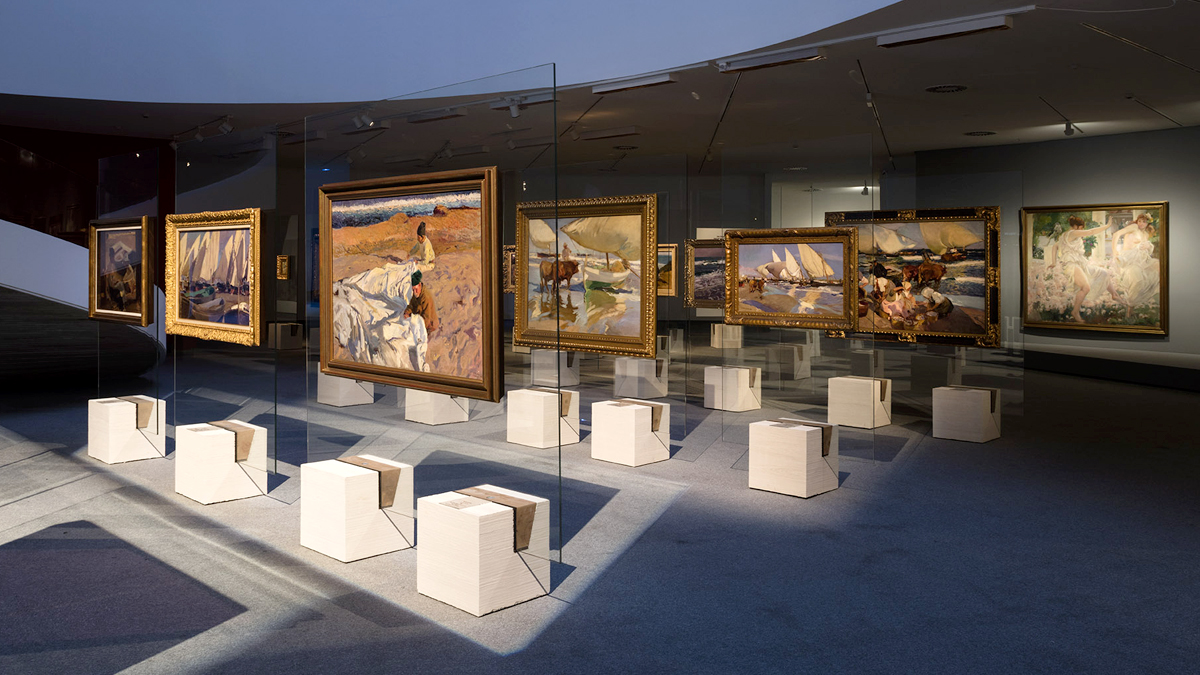 This exhibition in homage, on the 25th anniversary of his death, to a businessman and philanthropist Pedro Masaveu Peterson (1938- 1993), who was a fervent art lover and felt a strong predilection for the painter Joaquín Sorolla Bastida (1862 -1923), one of the richest, most prolific and fascinating personalities that the history of modern Spanish painting has given.
Pedro Masaveu is also the main Spanish collector of Sorolla. He acquired fifty-nine works made between 1882 and 1917, of which forty-six continue in the Masaveu Collection and thirteen belong to the Pedro Masaveu Collection, today in the Museum of Fine Arts of Asturias.
This important set of paintings of various themes, with special attention to matters related to the sea and beaches, was presented in its entirety for the first time to the public, except for Arrival of fishing, which was meanwhile exhibited in the National Museum Reina Sofía Art Center. Among these paintings, we must mention as references of the first order The family of Mr. Rafael Errázuriz Urmeneta (1905), My wife and my daughters in the garden (1910), Playa de Valencia. Afternoon sun (1908) and Sewing the candle (1904) of the Colección Masaveu and Transporting the grape. Jávea (1900) and Running along the beach. Valencia, (1908) of the Pedro Masaveu Collection.
For the route through the exhibition, a special presentation was made with the works suspended on concrete and glass structures, in reference to the glass easels designed by the Italian- Brazilian architect Lina Bo Bardi for the exhibition of the Collection of the São Paulo Art Museum  between 1968 and 1996. The use of these supports created a dialogue between two great Brazilian architects: Óscar Niemeyer, the creator of the Niemeyer dome, and Li Bo Bardi, the designer of the easels, whil also generating an invisible relationship between the paintings suspended in mid-air and the viewer, who has a complete, clear and unique vantage point of the works as a whole as well as the space harbouring them.
SUMMARY DATA
| PEDRO MASAVEU: PASIÓN POR SOROLLA
Centro Niemeyer
Avilés, Asturias
This exhibition took place from June 29, 2018 to January 6, 2019
Number of visitors: 56.279
The ticket office of this exhibition was entirely destined to the Niemeyer Center.

VIDEOS
PRESENTACIÓN
Vídeo de presentación de la exposición «Pedro Masaveu: Pasión por Sorolla» realizada en el Centro Niemeyer.
EXPOSICIÓN
Resumen de la inauguración de "Pedro Masaveu: Pasión por Sorolla».
Vídeo cortesía del Centro Niemeyer.
MAKING OF
Montaje con los trabajos previos a la inauguración de la exposición «Pedro Masaveu: Pasión por Sorolla».
Vídeo cortesía del Centro Niemeyer.