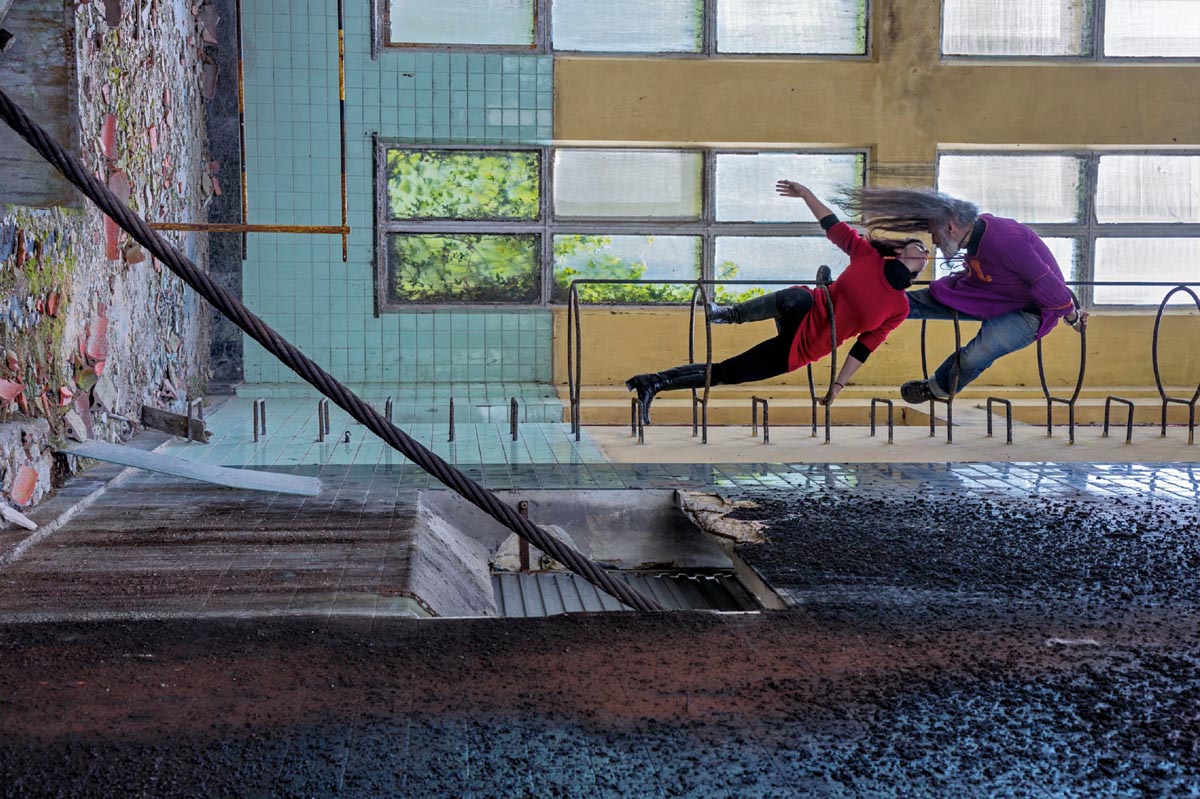 Communication with the purpose of culturally promoting artists included in the Fundación María Cristina Masaveu Peterson Collection, works protected by intellectual property rights. Their total or partial reproduction or processing by any means, or their transmission or cession in any form is forbidden without the authorisation of the holder of the rights to the works
Miradas de Asturias. A donde la luz me lleve

TECHNICAL DATA
Author: Ouka Leele (Madrid, 1957)
Title: Un beso fuera del tiempo. Ramón del Pomar y Sonia Estevez. Pozo de Santa Bárbara, Turón, Mieres, 2014
Year: 2014
Technique: color photograph. Digital printing on cotton paper. (Hahnemuhle Photo Rag Ultrasmooth 310 gm2)
Size: 100 x 135 cm
Serie: A donde la luz me lleve  (3rd Edition Miradas de Asturias)
Category: Patronage project of the Fundación María Cristina Masaveu Peterson
These images from the A donde la luz me lleve (Where the light carries me) series by Ouka Leele were made for the third edition of the Miradas de Asturias (Visions of Asturias) patronage project of the María Cristina Masaveu Peterson Foundation, under exclusive commission to the renowned photographer from Madrid, and the National Photography Prize, holding an exhibition and publishing a luxurious book with the result of the work. Based on this ongoing patronage project which pays the upmost respect to the creative freedom of the author, the María Cristina Masaveu Peterson Foundation has been backing a new collection on Asturias and its people, integrating the unique and untransferable vision of the selected photographer in every edition.
In Where the light carries me, Ouka Leele, photographer, poet, audiovisual director and performer, demonstrates all her creative skills to create an original compendium of scenes that – between reality and fiction – generate an intimate universe where the light, characters and typical corners of the Asturian region coexist in harmony. The exhibition consists of 50 photographs in colour, 4 watercolours painted on black and white photographs and 3 audiovisual pieces entitled Humo Blanco (White Smoke), Jugando con la luz (Playing with Light) and Los Mandiles (Aprons). 30 single edition photographs are part of the FMCMP collection. It was presented at the Cuartel del Conde-Duque in Madrid from 18 February to 19 April 2015, curated by Manuel Romero, under the artistic direction of Heridadegato (María Rosenfeldt & Jacobo Salvador).
Colour, dreamlike landscapes and evocative scenes conveying a mysterious and intimate vision of the region are the codes of this artist who describes herself as a collector of light, portraying the Asturian coasts, lighthouses and rocks with a focus on the customs of the countryside, vegetation and architecture.