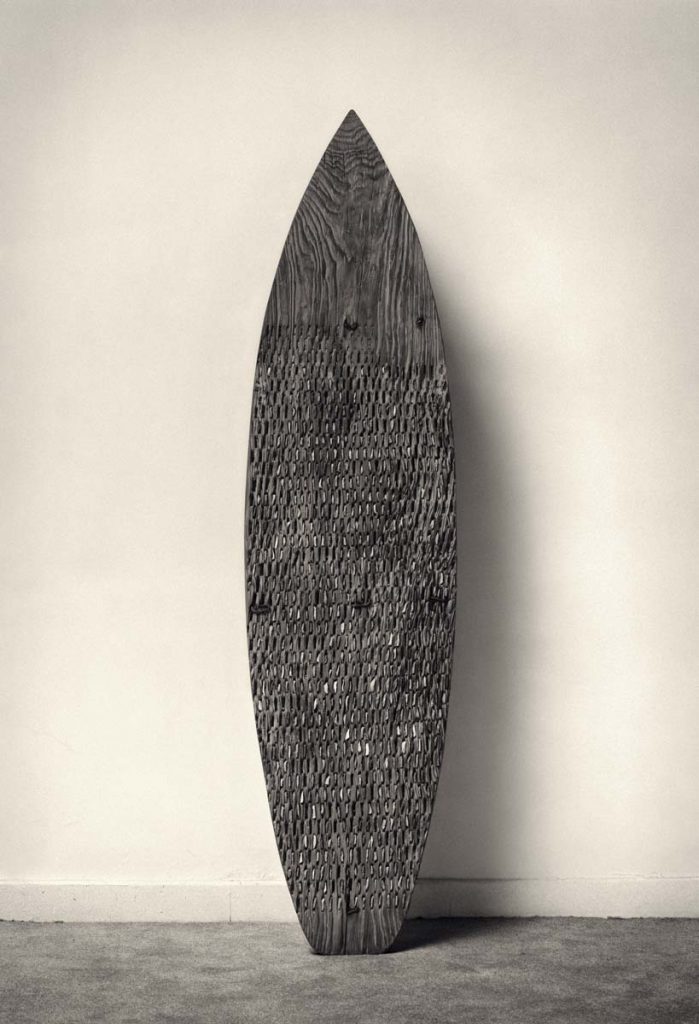 Communication with the purpose of culturally promoting artists included in the Fundación María Cristina Masaveu Peterson Collection, works protected by intellectual property rights. Their total or partial reproduction or processing by any means, or their transmission or cession in any form is forbidden without the authorisation of the holder of the rights to the works
Miradas de Asturias. El viajero inmóvil

TECHNICAL DATA
Author: Chema Madoz (Madrid, 1958)
Title: s/t
Year: 2017
Technique: black and white photography on barite paper
Size: 181 x 125 cm
Serie: El viajero inmóvil  (The stationary  traveller) 5th Edition Miradas de Asturias
Category: Patronage project of the Fundación María Cristina Masaveu Peterson
These images from The Stationary Traveller series by Chema Madoz were made for the fifth edition of the Fundación María Cristina Masaveu Peterson's patronage project, Views of Asturias. The Foundation made this exclusive commission for the famous Madrid-based photographer and National Photography Prize winner, and it later held an exhibition and published a coffee-table book with the outcome of his work. Through its constant patronage and utter respect for the author's creative freedom, the Fundación María Cristina Masaveu Peterson is promoting the development of a unique collection on Asturias and its peoples, integrating the unique, non-transferrable vision of the photographer chosen.
Chema Madoz makes his photographs by manipulating images and everyday objects in order to discover new facets of their symbolic capacities. In The Stationary Traveller, he had to reverse the usual course of his work. This time, objects and their free meanings are not what take centre stage; instead, the very idea of Asturias becomes the object to be observed and defined. In Madoz's perspective and way of working, looking at Asturias means that the reality of its geographic space, customs and peoples has to be turned into an abstraction. To do so, he proposes a stationary journey, since this undertaking does not require travelling to a specific place or shooting images of everyday reality. The goal is rather to journey through the imagination to discover the conceptual elements that shape the idea of an Asturias of the mind. Thus, using the iconic representation's capacity for synthesis, he gives us glimpses of the wild landscape and nature, the sea and the inhabitants, the rainy climate and the mountain, and through a collision of the senses he speaks to us of its traditions and ways of being. By doing so, he connects his observation of this small region to its poetic representations and goes back and forth from pure abstraction to the concrete, using the sense of humour that his works always contain.
The show was comprised of 34 theretofore unseen photographs, 30 of them unique copies, and 1 video (for the first time in the artist's career) in which the Teatro Campoamor of Oviedo serves as the backdrop of a waterfall that rushes down like a curtain and draws attention to nature viewed as spectacle. It was presented at the Centro Cultural Conde Duque (Madrid, 9 February–16 April 2017) and at the Asturias Fine Arts Museum (Oviedo, 10 June–3 September 2017).