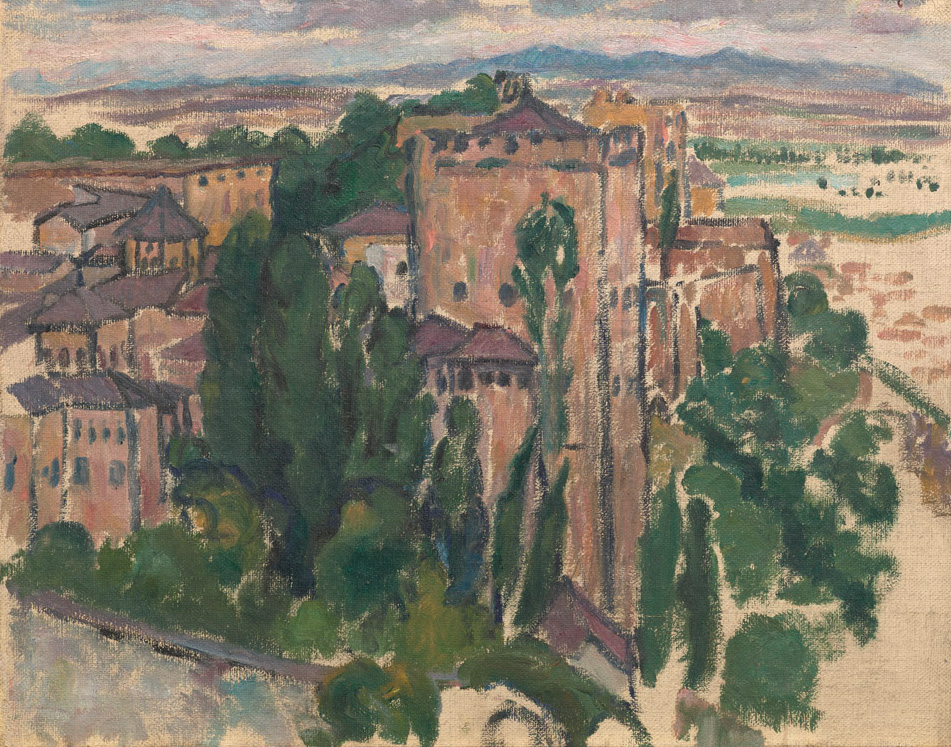 Communication with the purpose of culturally promoting artists included in the Fundación María Cristina Masaveu Peterson Collection, works protected by intellectual property rights. Their total or partial reproduction or processing by any means, or their transmission or cession in any form is forbidden without the authorisation of the holder of the rights to the works
Granada
TECHNICAL DATA
Author: Juan de Echevarría (Bilbao, 1875 – Madrid, 1931)
Title: Granada
Year: circa 1914-1915
Technique: oil on canvas
Size: 74 x 93 cm
In 1914, Juan de Echevarría travelled to Granada, where he lived for one year. There he painted works featuring Gypsy women and landscapes, including this view of the Alhambra from the Generalife, with the palace of Charles V on the left and the plain in the background.
The clear modernity of this painting, prompted by his long sojourn in Paris, can be seen in the way he resolved the landscape, which is painted with broad, fluid splashes of colour. The artist, a close friend of Francisco Durrio, had access to the latter's collection of works by Gauguin, who influenced him in some respects. The presence of brushstrokes in the outlines of his architecture gives it a constructed look, while the green splashes of the vegetation do not seem to be outlined. In this way, the clear buildings in reddish, orangey and purplish tones seem to be harmoniously surrounded by the trees, in differing shades of green. He used this play of colours in the background plain as well. The blue of the mountains in the background and the clouds accentuate their distance, although he also added a few touches of blue in the foreground as well.
The work was purchased from the Galería Jorge Juan in Madrid in April 2018.