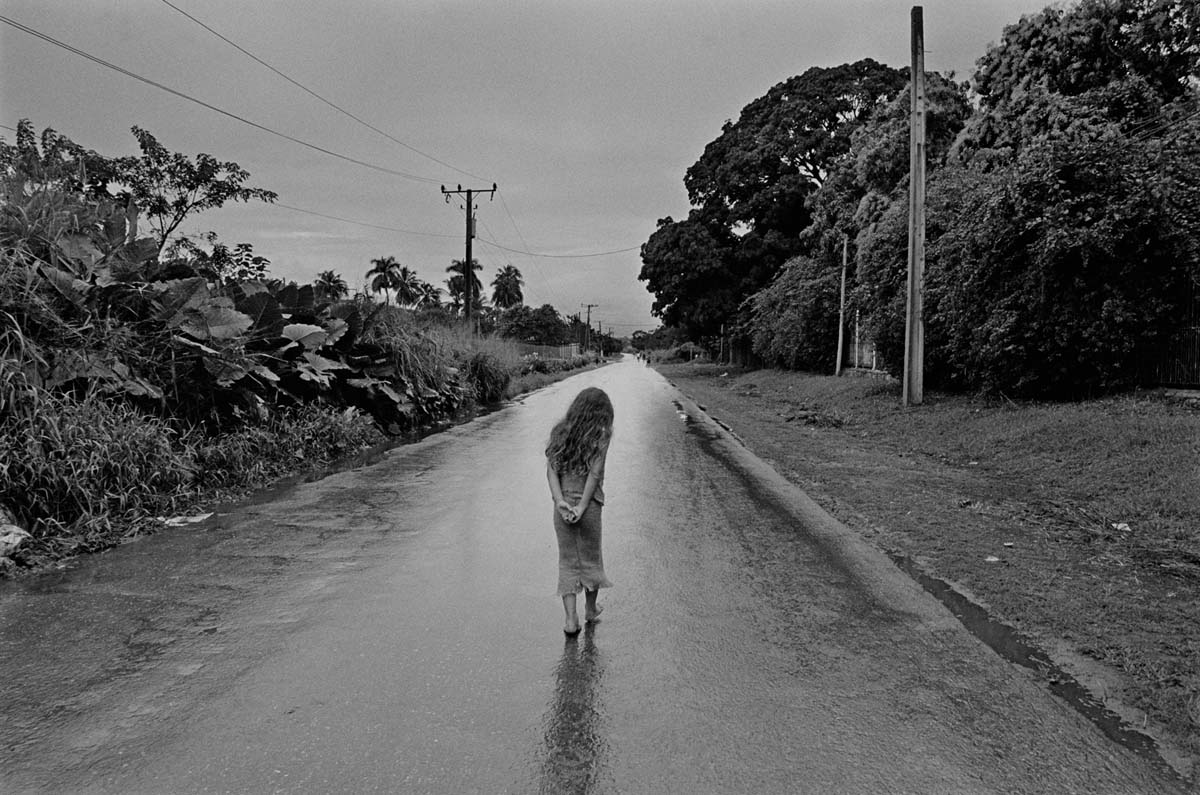 Communication with the purpose of culturally promoting artists included in the Fundación María Cristina Masaveu Peterson Collection, works protected by intellectual property rights. Their total or partial reproduction or processing by any means, or their transmission or cession in any form is forbidden without the authorisation of the holder of the rights to the works
CAMINOS DE LLUVIA. EL RINCÓN, CUBA
TECHNICAL DATA
Author: Cristina García Rodero (Puertollano, Cádiz,1949
Title: Caminos de lluvia. El Rincón, Cuba ( Roads of rain. The Corner, Cuba)
Year: 2007
Technique: photographic copy on baryta paper with the gelatine silver process and split selenium toning
Size: 53x 80 cm
Edition: 1/7
The soul as a challenge, captured in everyday or extreme situations, washed down with large doses of tenderness or beauty, is the essence of this work by Cristina García Rodero, belonging to her "Roads of Rain" series and dedicated to Cuba, in a project which she started in 1997 and which took her several years. This work was acquired by the María Cristina Masaveu Peterson Foundation at Madrid's International Contemporary Art Fair (ARCO) in 2010 and maintains the strength and compositional distinctiveness of the Cádiz artist, National Photography Prize winner in 1996 and author of essential books in current photography such as España Oculta (Hidden Spain) (1989), among others.
The core of the works of García Rodero is always the human being, like this girl who, with her back to us, walks off into the distance under the Cuban rain, in a solitary scenario, as beautiful as it is worrying in terms of her final destination. García Rodero prepares her trips conscientiously, documenting everything and studying the socio-cultural intricacies of the regions or countries she visits, but also has that individual epic approach that provides direct contact with people, chance encounters, personal risks, almost intuitive, that again and again allow her to produce images as emotive as the one see here.
Black and white and of high quality, compositional rigour, poetic about findings such as those that García Rodero found during her first Cuban explorations, on the eve of John Paul II's visit to the Caribbean island, or on subsequent trips that she made later and that allowed her to inhabit landscapes and moments closely linked to religion in Cuba, the Che Guevara's burial ceremonies, the commemoration of the forty years of the revolution and other moments full of symbolism. Women are the common thread running through many pieces, which are nourished by the visual energy, serenity, hope and immense horizons, as in this photograph, where the truth and expressive plenitude of the character flow, and the artist defines herself as sincere and forceful.