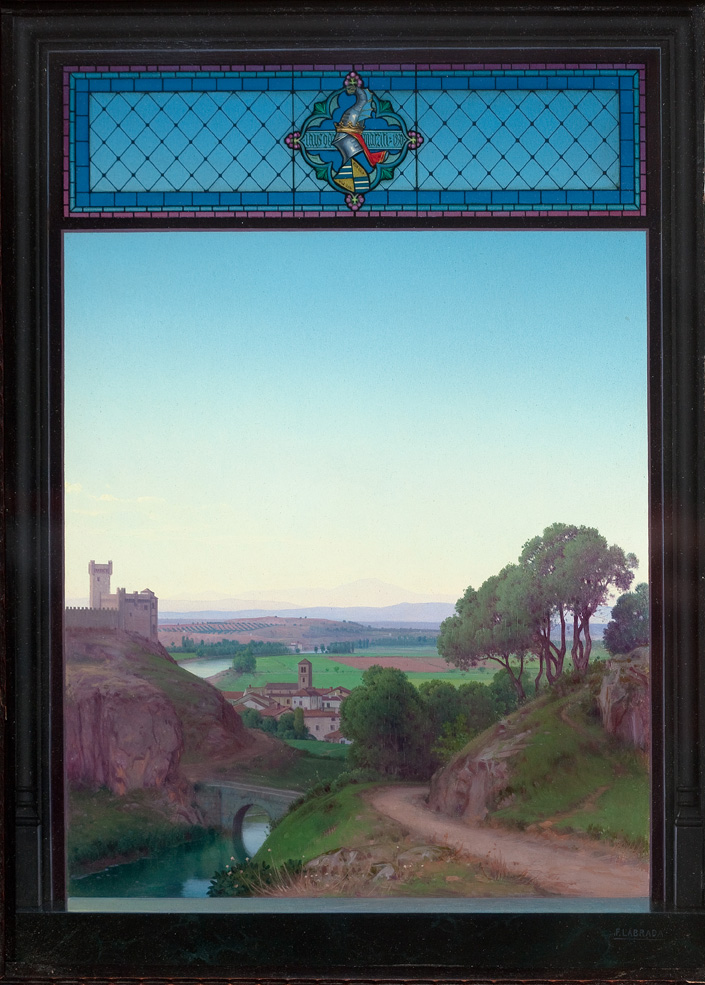 Communication with the purpose of culturally promoting artists included in the Fundación María Cristina Masaveu Peterson Collection, works protected by intellectual property rights. Their total or partial reproduction or processing by any means, or their transmission or cession in any form is forbidden without the authorisation of the holder of the rights to the works
Paisaje
TECHNICAL DATA
Author: Fernando Labrada Martín (Periana, Málaga, 1888 – Madrid, 1977)
Title: Paisaje (Landscape)
Year: 1930
Technique: oil on wood panel
Size: 33 x 24 cm
Throughout his life, Labrada felt a particular predilection for the landscape, a genre in which he stood out for his refined lyricism and an admirable mastery of light and colour, as are evident in this work. Just as in many other paintings from this period, here he depicts a view seen through a stained-glass window, which reveals a road, a river crossed by a bridge, a village and a castle atop a hill, all of them harmoniously laid out in the composition. The landscape is imbued with an intimate melancholy and boasts precise draughtsmanship and minute details inspired by early Flemish paintings.
The stained-glass coat-of-arms at the top belongs to the Mendoza family, referring to the painter's second paternal surname. It bears the following inscription: "Laus Deo Matriti 1930". The composition of the stained-glass window is reminiscent of his 1929 The Young Man of the Gold Chain, while the castle and bridge on the left side of the painting, commonly found in his works from this period, resemble those that appear in his 1928 portrait of Antonia.
This work was displayed in the 1930 Venice Biennale and at Casa Witcomb in Buenos Aires in 1932. It used to belong to the Banesto Collection and was acquired by the Fundación María Cristina Masaveu Peterson in Madrid's Jorge Juan Gallery in April 2018.