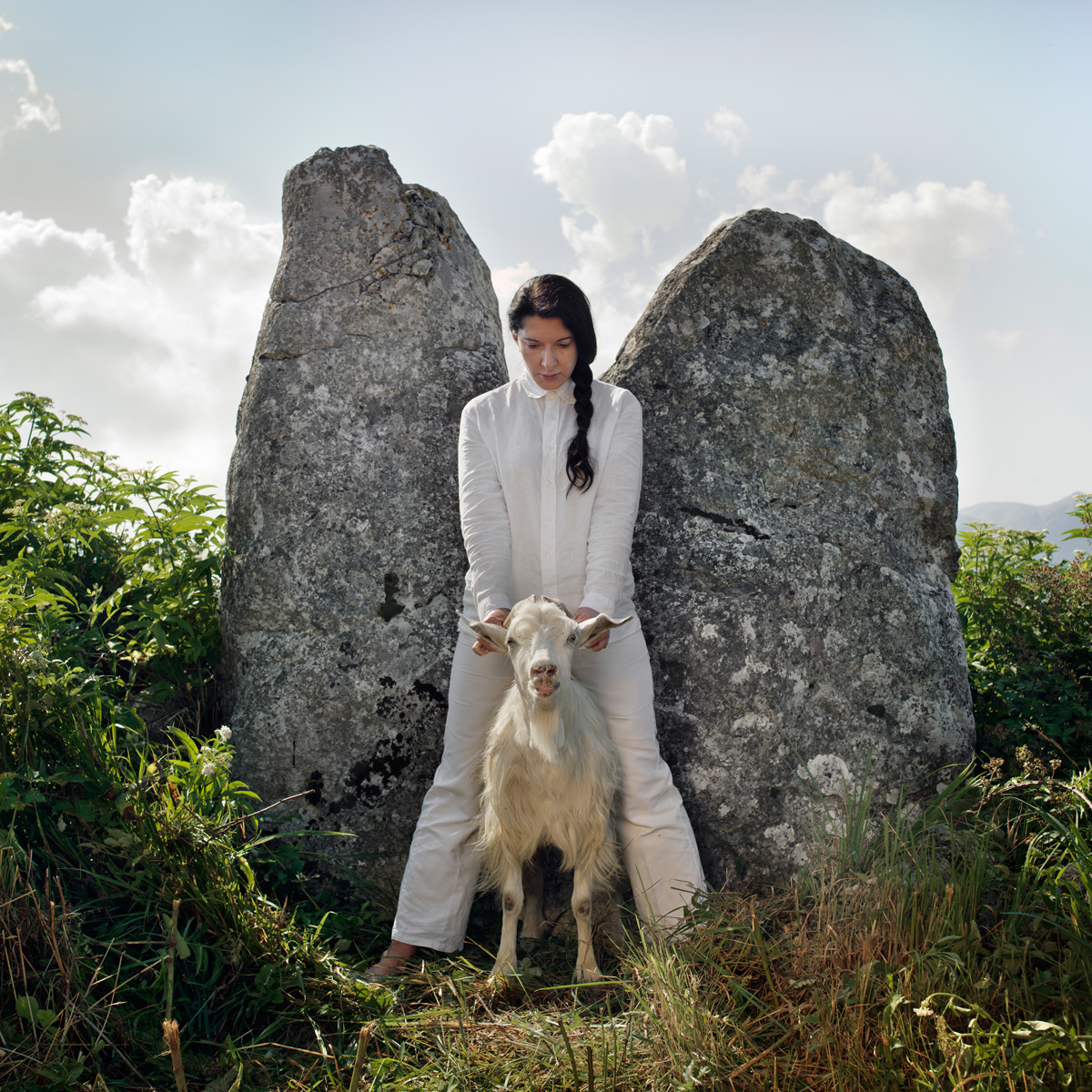 Communication with the purpose of culturally promoting artists included in the Fundación María Cristina Masaveu Peterson Collection, works protected by intellectual property rights. Their total or partial reproduction or processing by any means, or their transmission or cession in any form is forbidden without the authorisation of the holder of the rights to the works.
Holding the goat
TECHNICAL DATA
Author: Marina Abramovic (Belgrado, 1946)
Title: Holding the goat
Year: 2010
Technique: pigment Print
Size: 160 x 160 cm
Edition: 1/9
Back to Simplicity is one of the most original series in the extensive visual output that Marina Abramovic has been making for 50 years. She is a pioneer in performance and body art who documents her actions with photographic images and videographic works. This piece was acquired by the Fundación María Cristina Masaveu Peterson in Madrid during the ARCO 2011 International Contemporary Art Fair. It is one of the photographs she had taken one year earlier on a ten-day retreat in southern Italy to rest after three months of intense activity stemming from her retrospective at New York's MoMA. Her experiences were collected in the book Italian Works in 2012, and that same year she presented the opera Life and Death of Marina Abramovic at Madrid's Teatro Real and the exhibition Selected Early Works at a gallery in the same city.
From the start, Abramovic has experimented with and explored the limits of her mental and physical endurance before the public, with her body as the subject and medium, by ritualising the simplest acts from everyday life or harking back to famous historical, social and religious episodes, as in this piece. The formal and technical quality of her photographs, in which she painstakingly oversees the preparation, notably implement the initial pretext of the composition, which is based on complex conceptual solutions with an important prior discourse. She carefully plans every detail to express herself through beautiful stagings and by engaging in dialogue with the landscape, as in this almost pantheistic image.