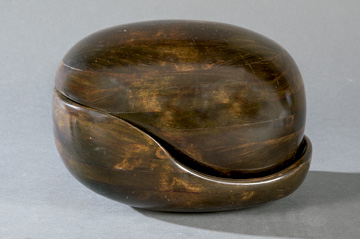 Communication with the purpose of culturally promoting artists included in the Fundación María Cristina Masaveu Peterson Collection, works protected by intellectual property rights. Their total or partial reproduction or processing by any means, or their transmission or cession in any form is forbidden without the authorisation of the holder of the rights to the works
Contacto. Serie negra
TECHNICAL DATA
Author: José María Navascués (Madrid, 1934 – Oviedo, 1979)
Title: Contacto
Year: 1973
Technique: assembled wood and anilines
Size: 27 x 22 x 20 cm
Contact is a small, solid, compact piece. This sculptural object is made of two parts which nestle together in different positions depending on whether the upper piece is placed horizontally or vertically. In the latter position, the work is more dynamic and boasts a delicate balance.
Made in 1973, it is from the Black Woods series (1969–1975) and is related to other pieces in biomorphic shapes like Eros and The Dove, in which Brancusi's echo can clearly be seen. Just like other pieces in this series, the perfect finish is essential, conferring a great deal of formal beauty on it. Navascués achieves this effect with a streamlined technical procedure that spans everything from cutting and preparing the wood, usually Baltic pine, to assembling, polishing and sanding it, and finally dyeing it with aniline oil, varnishing it and polishing it with several layers of wax.
This work was featured in the artist's solo exhibition held at Madrid's Galería Guereta in October–November 1975 (no. 14).